Scots unleash world's strongest beer
41% ABV 'Sink the Bismarck' torpedoes German rival
---
A Scottish brewer appears to have torpedoed a German rival's claim to the world's strongest beer, by bottling a "quadruple IPA" weighing in at a liver-bashing 41 per cent ABV.
Just weeks after German outfit Schorschbrau floated its 40 per cent Schorschbock, Aberdeenshire hop-botherer BrewDog has counterattacked with the provocatively-named Sink The Bismarck!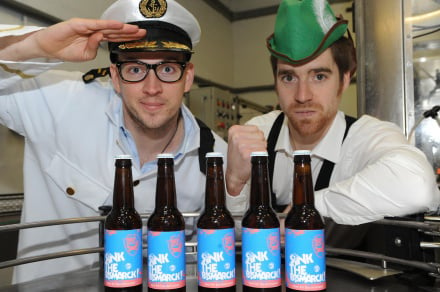 BrewDog MD James Watt, pictured above (r) with fellow beermeister Martin Dickie (l), said: "In true BrewDog fashion we've torn up convention, blurred distinctions and pushed brewing to its limits with this audacious amplified ale."
The company's website notes: "By pushing the boundaries in brewing we can highlight all that is exciting about craft beer and make more people aware that an alternative to mass market beers exist. As a company, responsible consumption and better education about beer is ingrained in all we do.
"Beer has a terrible reputation in Britain, it's ignorant to assume that a beer can't be enjoyed responsibly like a nice dram or a glass of fine wine. A beer like Sink the Bismarck! should be enjoyed in spirit sized measures."
Well, at £40 for a 330ml bottle, we doubt anyone will be quaffing a Sink the Bismarck! like Saturday night fighting lager. If you like your beer "officially cranked up to 11" and have the stomach and wallet to handle it, Sink the Bismarck! is available only online, right here. ®
Bootnote
The Sink The Bismarck! moniker will doubtless remind beer fans of Kent brewer Shepherd Neame's 1999 campaign for its Spitfire Ale, which included this gem: