Just what you never knew you needed, the ASBOrometer, an app for iPhones and Android devices, which lets you know how many people with antisocial behaviour orders there are in your neighbourhood.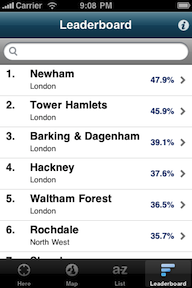 Here is an application to make you feel lucky and superior or depressed about impending ghettofication, for which we thank Jeff Gilfelt, a software developer, who scraped the info from data released by Direct.gov.
Britain is justifiably famous for its hooligans and we are inordinately proud of them when they go to war on our government's behalf. We shed collective tears when they fall in battle.
Other times, their noisy, chavvy ways annoy the crap out of the rest of us.
Yes, class warfare is alive and well in the UK, a country where the washed masses try and fail to corral a "feral underclass".
One weapon is the ASBO, a largely ineffective device intended to keep at bay thuggish teenagers and families from hell.
ASBOs are said by some to be a badge of honour, and their recipients are increasingly likely to be named and shamed. But how does one shame a shameless man?
You can't. What, then? This is where the ASBOrometer could come into its own. If we could combine something like Grindr, a gay cruising iphone app pimped by media luvvie Stephen Fry on Top Gear, with ASBO names, faces and possibly addresses, we have a tool that tells us when we should cross the road to the other side. Or organise a get-out-of-town party.
Let's drop the pretence that the Asbo is a civil legal instrument and place an electronic ankle tag on the offender - that's what they are, right? - and rig it up to his phone, which must be kept switched on at all times. Or else...