Hacker cuffed for Moscow big screen entertainment
Projected grumble flick on giant display
---
Russian police have arrested the hacker who last month projected some adult entertainment on an enormous video screen in Moscow, giving locals around two minutes unexpurgated coverage of "a white male and a black female having sex".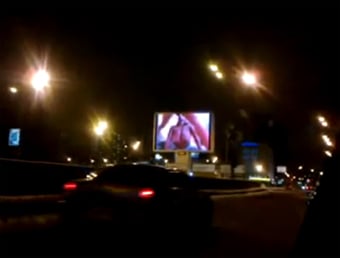 According to Pravda, the grumble flick appeared at 11pm on 14 January on an giant display on the city's Garden Ring Road. Some gobsmacked Muscovites grabbed the action on their mobile phones (see still), but shaken passer-by Alyona Prokulatova told AP she was "so shocked that I couldn't even shoot video or take a picture of it".
The commerical director of Panno.ru, which operates the screen, said last month: "Most likely, a commercial video was replaced with an adult one when the control computer was hacked."
Correct, polices sources have confirmed, following the arrest of an unnamed 40-year-old unemployed man in the Black Sea port of Novorossiysk.
The perp, who has previous form, "repeatedly hacked other people's computers simply out of curiosity to master his skills", according to the authorities.
An official explained: "He used a hostile program to hack the website of a company located in Chechnya. Afterwards, he penetrated into the server responsible for the operation of the screen in Moscow.
"The hacker replaced one of the commercial video files on the playlist with an adult video. He said that he decided to hack a resource in Chechnya because he was certain that the police would never go there for investigation."
He concluded: "Employees of the company said that they did not even know that their official website had been hacked. Our agents collected the required information and left for Russia's Krasnodar region, where the hacker was detected and arrested."
The ne'er-do-well pleaded guilty to the outrage, but insisted that "he only wanted to entertain people". In his defence, he claimed he "originally wanted to stream the video on a commercial screen of a shopping mall in Moscow", and didn't imagine that "thousands of people would see the porn flick in the center of the city". ®