In a highly anticipated finale to their mission, NASA astronauts have thrown open the shutters on the International Space Station's new room with a view.
During the last of three spacewalks planned for Endeavour's 14-day mission, astronauts Robert Behnken and Nicholas Patrick removed insulation blankets on Tranquility node's seven-windowed observation cupola while Pilot Terry Virts tested its protective shutters one-by-one from inside this ISS early Wednesday.
Near the end of the 5-hour, 48-minute excursion, the cupola's windows were opened simultaneously. Mission Specialsts Kathryn Hire congratulated the spacewalkers for "raising the curtain on a bay window to the world," according to NASA.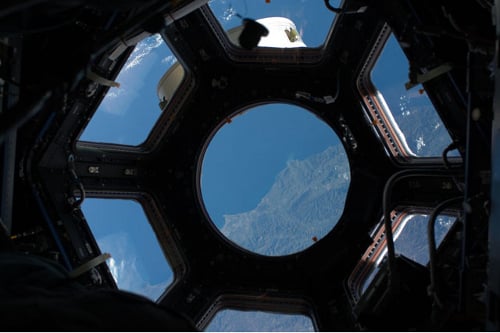 A spectacular view of the coast of Algeria. No X-Wings spotted thus far...
The Italian-built observation dome, which measures about 3-feet tall and 6 feet in diameter, will provide the ISS with an unprecedented view of activities outside the station such as spacewalks, docking operations, and exterior equipment surveys in addition to its humbling lookout to Earth.
A robotic work station will be installed inside the Tranquility node on Thursday, allowing the cupola to serve as the primary location for controlling the station's 60-foot mechanical grabber, Canadarm2.
NASA said during normal operations, the cupola's round window in the middle can remain unshuttered. However, windows facing the direction the outpost is moving will usually be closed in order to protect against contamination and collisions with orbital debris or micrometeorites – unless needed for robotic operations.
The cupola's windows are made of fused silica and borosilicate glass panes, with temperature-sensing elements and window heaters.
STS-130 is Endeavour's 24th flight and the 130th for the shuttle program overall. It's crew of six will depart the space station on Friday and return to terra firma on Sunday. Only four more shuttle flights remain before the fleet is retired at the end of 2010. ®