Review The Toshiba 26DV615DB is rather big and chunky for a 26in telly, but that's because it has a DVD player built into the casing. The result is that it measures 100mm in depth, so it's by no means thin.
In addition, the bezel is a substantial 50mm all round, so this relatively small HDTV measures 681mm wide by 514mm tall.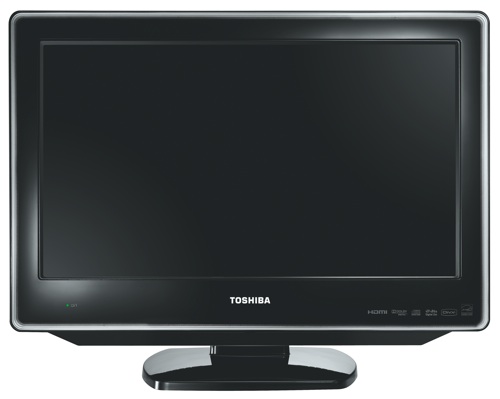 Toshiba's Regza 26DV615DB: big bezelled
Despite that, the all-up weight is only 8.8kg so it's quite feasible to move the Tosh around the house when you have guests staying, or fancy watching the cricket in peace and quiet in the kitchen.
The Electronic Programme Guide (EPG) looks good. It offers handy frills such as a progress bar that indicates how far you are into the current show, but it falls short of the perfection offered by Sky. For one thing, the 'i' button gives you very little information about the show you're watching, but does tell you both the signal strength and the signal quality of the station in question.
We weren't especially impressed with the remote control. It's a full-sized unit that feels comfortable in the hand but it isn't illuminated. And there is a system of colour coding that is presumably meant to help the customer.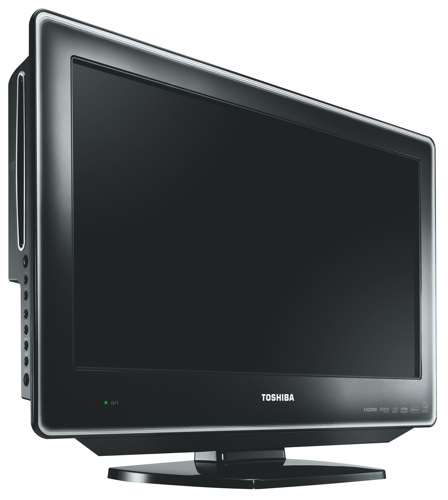 Bulky, but light enough to lug around the house
DVD buttons are marked in lilac, digital TV in orange, green is used for Teletext, and other functions are in grey. However, the markings are tricky to read and we spent far too much time staring at the remote looking for the appropriate buttons when we should have been watching TV.