This article is more than 1 year old
SWaP Signature watchphone
Timepiece telephony
Review The Smart Watch and Phone (SWaP) Signature looks enticing. It fits on your wrist, yet packs in a touchscreen, music and video playback, a camera good for video and stills, Bluetooth with stereo audio, a Micro SD card slot, and a suite apps including an e-book reader. Telephony runs to tri-band GSM with GPRS, but not to 3G.
But dear, oh dear, we can think of so many more things to do with £350.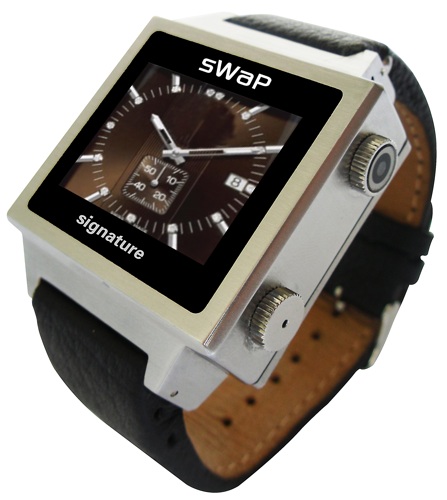 Signature's SWaP: wrist, watch out
Like all watchphones we've seen, the Signature is a sizeable beast. Your wrist will need to be broad enough to take a watch which has a face that's 43mm x 40mm and is 15mm thick. The buttons on the side make it a little wider, and extensions to the strap a little taller than these measurements. The 24g weight quoted on the Signature website is a hopeful typo. Our scales put it at 124g.
The SwAP has a leather strap with solid, heavy-duty clasp, and comes supplied with a small, tidy Bluetooth headset. You get no information on how to charge this, though in fact it fits into a small cradle which itself plugs into the USB port on the provided mains power charger.
The screen is a 1.5in, 176 x 132 colour LCD. It's bright and sharp, but, as ever with very small touchscreens, it's a real fiddle to use. The screen dims quickly to save battery power, so you have to tap it to see the time. You can set various clock designs but you can't preview them, so choosing what you prefer is tedious.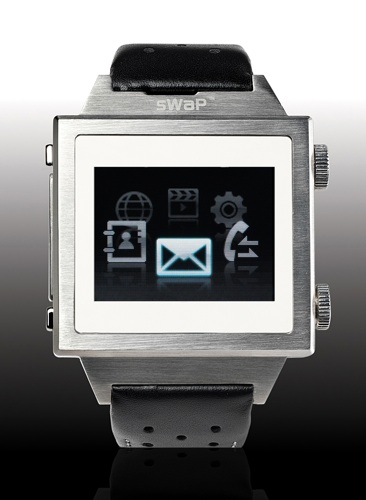 The screen is bright and sharp but fiddly to control by touch
The menu system relies on tapping icons and making choices from lists, and you'll probably need to resort to a stylus immediately. You get two: one is a chunky affair which, presumably, you are meant to dangle from the watch. No thanks.