Eco computer game cost taxpayers £47 per play
The true cost of astroturf
---
In what may be the most expensive "spontaneous" outburst of grassroots political expression since Mao's Cultural Revolution, the old farming ministry DEFRA paid more than £8m over two years to civic society groups if they spread the correct message about Global Warming.
These included a computer game that was used so infrequently it cost £47 per go, and £160,000 for a man to drive around with a truck sign. The payouts are detailed in files released in response to Freedom of Information requests from pressure group the Taxpayers Alliance. But this is subtly different to your standard quango, taxpayer-money-down-the-pan story - in some quite interesting and non-obvious ways.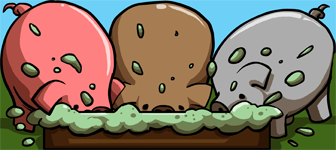 The payouts represent a tip of the iceberg (no pun intended, honest) of state funding for climate evangelism, which runs into billions of pounds. These FOIA requests only cover DEFRA, and so exclude cross-department initiatives such as the expensive, umbrella Act on CO2 initiative. And of course it excludes the really big money, such as the £200m a year to the Carbon Trust, a similar amount to the the Energy Savings Trust, and smaller quangos.
Also not included are state-dependent institutions who are sympathetic to the cause, such as the £50m a year Royal Society, the Met Office, or the British Council, for example. It's merely one initiative, called the Climate Change Fund.
The fund was designed to promote "behaviour change", the even creepier-sounding "attitude modification" and the old standby, "awareness raising". The words "empower" and "empowerment" also feature. Beneficiaries between 2006 and 2008 included the Scouts Association, Women's Institutes, drama groups, a community radio station, as well as quangos and a number of councils. Some of the recipients border on self-parody:
"Reasons to be Cheerful, the Carbon Coach, Cheerful Ltd. CarbonSense, Comic Company and National Energy Foundation have come together as Think Purple to help make CO2 visible. The project has produced purple resources for schools, organisations, and the general public which they hope will help transform how they see CO2 and how they use energy," we learn.
But few of the messages were cheery. In an incredible film called Carbon Weevil, humanity "infects" Mother Earth (a she, natch) as a destructive insect:
(The insect has only one purpose, to emit carbon. And mess things up for Gaia.)
£164,000 went to employ somebody to tow a 23 foot x 6 foot accessible trailer around. Three games were produced, costing tens of thousands of each. Cycling Hero cost almost £300,000.
There are more examples in this video.
So apart from a few million quid down the drain, what harm was done?