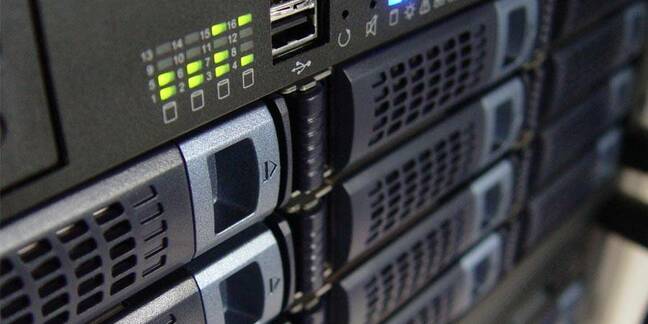 HP is to OEM QLogic's stackable 5800 Fibre Channel switch, which is making QLogic quite excited.
HP will sell an SN6000 product. This is sourced from QLogic's 5800, an 8-port, 8Gbit/s Fibre Channel (FC) base switch, which can have up to five additional switches stacked on it using 10Gbit/s inter-switch links (ISLs). As each switch can have up to 20 ports with 4-port increments, that gives customers a neat way to expand up to 120 ports. This can be done without turning switch activity off when a new switch is fixed into the rack.
Two ISLs can be aggregated to provide 20Gbit/s bandwidth, although this needs a software key. The SN6000 is being offered by HP's StorageWorks division, not by its ProCurve networking operation.
HP has been selling the 820Q switch, a 5800 base unit with the ISL ports turned off.
QLogic is pretty hot under the collar about this OEM agreement, because it reckons HP is the gateway to perhaps 30 per cent of the Fibre Channel switch market in Europe, the Middle East and Africa. Henrik Hansen, QLogic's EMEA director said it could see itself taking share from competitors like Brocade and Cisco. Stackability has been the norm with Ethernet switches for some time and he is convinced FC switching will go the same way.
He reckons that HP appreciates QLogic' Simple SAN Connection Manager (SSCM) software. This enables the much simpler and faster provisioning of Fibre Channel fabric resources for virtual servers than with competing switch suppliers with whom, it claims, multiple management interfaces can be involved. This is Hansen's view of course - we haven't heard those of Cisco or Brocade.
We understand that SSCM could get a VMware interface to enable VMware administrators to kick off fabric provisioning automatically when a virtual machine is provisioned.
The SN6000 has transparent routing so that it fits right in with FC directors with that feature. They will simply see the HBAs at the end of the fabric and not the intervening SN6000 edge switch.
HP OEMs FC switches from both Brocade and Cisco but, QLogic says, HP has not had a stackable switch in its product set before. Brocade, it says, does not offer a stackable switch. Cisco does, but only at the slower 4Gbit/s level.
Presumably HP was not excited enough about any Cisco 8Gbit/s stackable switching to take any forthcoming product from Netzilla but, equally, this rebuff for Cisco could be a result of its invasion of the server space with its California servers. Its partnership with EMC and VMware competes with HP on the server, storage and networking fronts.
Some commentators privately think that HP would like to remove Cisco from its product line altogether, although this is not a position publicly adopted by HP.
QLogic sees itself being in a favourable position for HP's favours compared to Brocade as, unlike that company with its Foundry acquisition, QLogic will not be competing for ProCurve/3Com Ethernet business.
However, both Cisco and Brocade provide Director-class switches at the core of the network and Brocade is putting forward a better class of fabric service argument, obtained by linking its HBAs to its switches. They might say having stackable edge switches is no big deal.
Hansen conformed that QLogic is not the supplier of the 20Gbit/s InfiniBand switch in IBM's recently announced SONAS product. The scuttlebut is that Voltaire is the recipient of IBM's InfiniBand largesse there. ®
Sponsored: Webcast: Ransomware has gone nuclear