This article is more than 1 year old
Microsoft finally debuts Euro-choose-a-browser screen
Enforced choice for those who don't care
Microsoft has unveiled its EU-mandated Web browser choice screen, and will start rolling it out next week.
Redmond's deputy general counsel Dave Heiner warned Explorer users "what to expect", in a not at all grudging blog posting.
He said the design and operation of the screen "was worked out in the course of extensive discussions with the Commission and is reflected in the commitment that Microsoft made."
The UK, Belgium and France will get the first crack at the screen, which will be rolled out through Windows update to users who are running Explorer as their default browser. A phased roll-out to the rest of Europe will begin from March 1.
Windows 7 users will have IE automatically "unpinned" from their task bars as part of the process.
At the same time, users will get a screen warning that they have "an important choice to make", before getting the following list of what Microsoft describes as "leading browsers".
The list is presented - as per the agreement with the EU - in random order. Still, it's interesting to note that in Microsoft's posting, Explorer has been discretely pushed to almost the end of the list. Additional browsers can be seen by scrolling to the right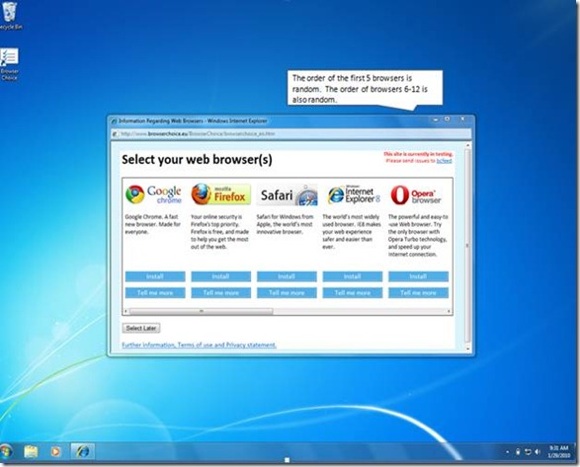 Uses who realise that yes, they've already wanted to try something other than Explorer but were afraid to ask, can click for more info or just go crazy and install Opera or Chrome or whatever there and then.
The process seems relatively straightforward. But even so it illustrates the problem with the issue.
Those users who do not have automatic updates enabled, and who do not manually access updates are probably the same ones who are least aware that there are alternatives to Internet Explorer out there. And probably don't care. Those users who are likely to use an alternative browser are probably doing so already. ®