This article is more than 1 year old
The Not-Invented-Anywhere Syndrome
Teen sensation does a Chris Anderson
A teenage literary sensation who lifted large parts of her debut hit novel from the Web, without giving credit, says she's justified because "there's no such thing as originality".
For good measure, Helene Hegemann said the plagiarism was justified, because copyright holders had it coming.
17-year old Hegemann's Axolotl Roadkill, a bildungsroman, was published to critical and commercial acclaim last month. But large chunks of the book were lifted, without credit, from a novel published by a pseudonymous blogger called Airen, whose novel Strobo is also a hedonistic coming of age novel.
Hegemann said she had freely mixed from various sources. "There's no such thing as originality anyway, just authenticity," she said in a statement.

You may have heard of Not-Invented-Here syndrome. Well, this is Not-Invented-Anywhere syndrome, and it reflects an important strand of net culture.
Before activists and academics get too excited about this latest copyright martyr, and rush to the barricades on behalf of our teenage sensation, we should point out that Hegemann's publisher Ullstein has gone and done a Chris Anderson - and fessed up. Roadkill, it now acknowledges, contains 20 passages that were directly lifted, and at least 20 more were very similar to passages in Strobo - all without credit.
And giving credit seems to be what the fuss is about. "Intertextual mixing", as the academics call it this week, is itself nothing new. Modernists writers such as Joyce and Eliot were er, remixing styles and even original texts 90 years ago. The idea that new art builds upon existing art by adding something new and interesting - even if it's small - is also ancient and so widely accepted, it's non-controversial. But it's been traditional for writers using original sources to acknowledge them. Now this is either done grudgingly, or not at all - with the defiance turned into a political gesture.
Hegemann's weird insistence that there's no such thing as creativity has become a part of nerd culture thanks to activists and nerd academics over the past decade, who (ironically) turned it into a lucrative business.
In an essay activists like to cite, Jonathan Latham wrote that, "substantially all ideas are secondhand, consciously and unconsciously drawn from a million outside sources, and daily used by the garnerer with a pride and satisfaction born of the superstition that he originated them". In other words, if you'd just been floored by a piece of music, or a photograph, or a poem, say, that seemed to describe the world in a completely new and startling way - then you've been tricked by a figment of your imagination. There can be no new ways of looking at the world, since all the possible ways of looking at it have been there all along.
How convenient.
Beyond the blather
It's a pity that for lack of positive initiatives, the debate drove up a cul de sac, and blame must be shared widely. Fifteen years ago we saw the chance to restructure creative industries as the old oligopolies' grip on production, distribution and publicity was weakened by new technology and digital networks. The opportunity beckoned to reshape creators' rights for the next two hundred years. But this meant doing real politics and real engagement, rather than cyber-blathering.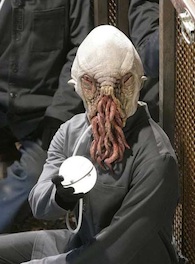 An Ood
Instead, some nerds posed a question. Couldn't just pretend creativity doesn't exist? It comes from somewhere, so perhaps we could assign authorship or originality to some amorphous collective entity, instead - a digital Hive Mind, perhaps, such as the telepathic backbrain nurtured by the Ood in Dr Who - and be done with it? The idea caught on.
And so, it was seen as much easier and more lucrative - particularly in academia - to wish the problem away. Copyright is about credit, particularly credit of the valuable green, folding variety. But if something could be found to avoid giving credit, then perhaps the whole difficulty could go away too ? This is very much a stroppy three-year-old's approach to a problem, but sometimes the internet can bring out the stroppy three-year-old in nerds. Copyright is a social settlement and not something that lends itself to a clean compile, with (0) errors and (0) warnings.
Unfortunately this failed approach hasn't really got us anywhere, except to drive us down an intellectual cul de sac, where creators are told (often by wealthy, state funded academics) that richer means poorer, plagiarism is originality, and obscurity means fame.
I think we can safely conclude this approach an epic failure.®