Review Motorola's Google-happy Droid handset can be summed up in three words - and a bit of punctuation: "Nice phone, but..."
The Droid has been out for some time now in the US, but we got our hands on one only last month. And although our sister site RegHardware has already had their way with its UK counterpart, the Motorola Milestone, we thought that our stateside readers would like our take on what it has been like to slip a Droid into our pants pocket and live with it for a few weeks.
Build
The Droid is built like a brick - it has a nice, solid heft that makes you feel it's worth what you paid for it. Motorola calls the color of the phone "licorice w/brown sugar accents." We call it black with a gold camera button and perforated speaker grille.
The phone weighs 6oz (169gm) and is 2.4-by-4.6-by-.5 inches (60-by-115.8-by-13.7mm). A 16GB microSD card comes preinstalled, although if you'd like to up the memory, a 32GB microSD card is also supported.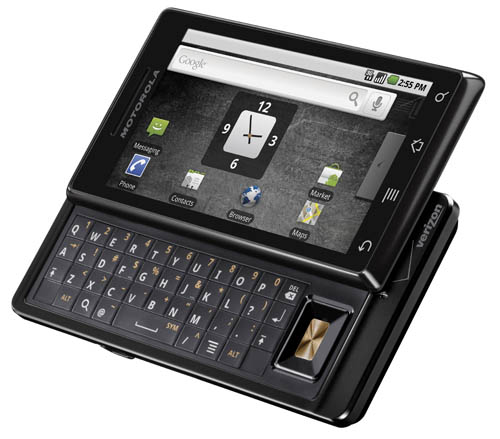 Slim, even with a slide-out keyboard
The Droid's display has its good points and its bad points. On the plus side, it's an exceptionally crisp, 3.7-inch, 267ppi TFT capacitive unit with WVGA resolution of 480x854 in a 16:9 aspect ratio. On the downside, even when set to maximum brightness, it's a challenge to read in bright sunlight.
Of course, no handheld shines in that enviroment, but the Droid is noticeably dimmer than other smartphones we've used (think iPhone), and its small icons made tracking down the apps we wanted harder than it should be. That said, it should be plenty bright if you live in cloudy Seattle - but if you're in Phoenix you'll want to slip into the shade to use it.
Also, being non-oleophobic, the display picks up finger oils easily, which makes viewing it in bright sunlight that much more difficult. Fortunately, the display is almost completely flush with its casing, making wiping it clean an easy task.
One last note about the display - and, for that matter, the backlighting on the capacitive switches and the keyboard. The auto-dimming feature is a mess - in our testing, the automatic display brightness and keyboard backlighting were quite inaccurate and flipped back and forth seemingly randomly. You'll want to turn off auto-dimming at Settings > Sound & Display > Brightness.
And while you're in Sound & Display, you'll also want to go to Notification Ringtone and either switch it to either Silent or anything other than the default robotic "Droid!" inanity.
The body houses three physical buttons - power, volume, and camera - and four backlit capacitive buttons - back, menu, home, and search - with menu and search duplicated on the physical keyboard. Unfortunately, all three physical buttons are less than solid in feel, and the volume button is a bit small for our unusually large hands. Normal humans, however, may have no problem with it.
In addition to the buttons, there's a standard 3.5mm headset jack and a standard micro-USB port for charging and linking up to your PC. Although the Droid's User Guide (PDF) doesn't mention it, the phone can be charged both with the supplied AC brick and by plugging it into your PC. In our testing, however, that latter charging method worked only on our test Mac's on-case USB ports and not on our keyboard ports, which didn't provide enough power.
And then there's the slide-out, backlit keyboard. Of all a smartphone's features, keyboards are among the most debated. Some users swear by on-display "soft" keyboards, while others say that only a physical keyboard is adequate for extended typing chores such as email and note-taking.
The Droid attempts to have it both ways - but fails. Although its physical keyboard is easier to use than the one on, for example, the Palm Prē, our testing by a dedicated BlackBerry user found it to be less satisfying than on that RIM device. Unlike the BlackBerry, the Droid's keys are flat, which makes centering on the correct key more difficult than it should be.
That flatness allows for the keyboard - and, thus, the entire Droid - to be quite slim when the keyboard slides beneath the rest of the phone, but it does take away from its usability. And, speaking of that sliding, the keyboard slips in and out of position with a soft-but-solid, secure snap.
In addition to the keyboard's flat keys, the physical five-way rocker switch was also problematic. Although the right/left/up/down rocker action was positive, the gold center button was a pain to use - although that also may be the result of our individual ham hands.
The Droid's soft onscreen keyboard works in either portrait or landscape mode. As a text-entry system, it's perfectly adequate. In fact, we were able to use it to much better effect than the physical keyboard - but that may be due to our familiarity with our day-to-day iPhone use. Keyboard preferences are not only a matter of taste, but also a matter of training.
For more information on the Droid's various and sundry capabilities, check out Motorola's detailed Tech Specs.
Similar topics