User Interface
The Droid's Android 2.0 UI could be called either a richly versatile set of capabilities or a hodgepodge of mismatched elements.
Take the home screen for example - well, the three home screens, to be exact: a central one flanked by right and left screens that can be accessed by flicking in each of those directions.
Each of the three screens can hold app icons; shortcuts to such services as browser bookmarks and music playlists; widgets such as an analog clock (with no alarm functions - that's a separate app), a Google search field (with a hit-or-miss voice-search function), or an image from your photo collection (which the UI lets you resize in a square frame but which then shows up on your home screen as a rectangle); and folders. It's a rich set of capabilities, but one that can quickly add up to a confusing morass.
When you add an app icon to your home screens, what you're adding is actually a shortcut to the app, which lives in an app menu that slides up from the bottom of the screen when you tap its tab. Apps in the app menu are listed alphabetically, so you may have to scroll down the menu to find the one you want.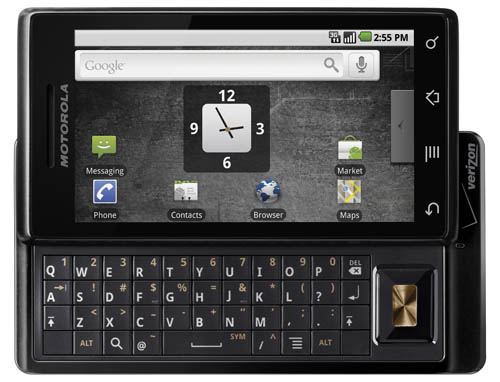 The Droid's three home screens can be home to a variety of disparate elements
Since apps can't be renamed, you can't cheat and rename a frequently used app to bring it to the top of the menu - if you want quick access to that app you'll have to use some of your limited home-screen real estate. And that limited screen space gets used up quickly, especially because Android doesn't allow you to pack icons, folders, and widgets the way you want on the screens - it has its own ideas about spacing.
Fortunately, deleting an item from a home screen is simple: just tap and hold on it, then drag it to the app-menu tab, which turns red and changes to a trash-can icon. Since items on the home screens are shortcuts, deleting them doesn't delete the actual item, but just the shortcut to it.
To cram more items onto the home screens, you use folders. Into them you can drag app icons and other shortcuts, but not widgets nor picture frames. Neither can you nest folders. You can rename folders (open the folder and tap and hold on the folder name), but only about nine or ten characters of the name will show up on the home screen below the folder.
You can create and populate your own folders, or choose from pre-configured folders for contacts (all, or only those with phone numbers), notes, items received over Bluetooth, your Facebook phonebook, or contacts that have been "starred" - which is what Android calls Favorites.
In addition to all this clutter - or customizability, your call - the home screen includes a status bar at its top that displays, as might be guessed, the status of various Droid features. The list is a long one: 17 different status states. That would be tolerable - barely - if the status bar didn't have to share space with notification icons for such items as regular mail, Gmail (you need a Google account to use the Droid), SMS and MMS messages, app downloads, USB connection, and the like.
It gets mighty busy mighty fast in the status bar.
When notifications arrive that require attention, you - carefully - drag the Notifications window open, which covers the home screen, and deal with the message, USB options, or whatever.
If this all sounds a bit complicated, that's because it is. The Droid is not as intuitive as it could be - as it develops, the Android operating system, while powerful, seems to be accreting features rather than consolidating them. Simple actions such as making a phone call take more taps than you might expect as you navigate through menus and submenus and are presented with what you might regard as either a rich or a daunting set of possibilities.
After all that kvetching, we'd like to point out one nicety of the Droid's UI that we particularly like: the contacts list. When navigating this list, as soon as you begin scrolling a large tab appears on the right of the display that you can touch and drag to the appropriate spot in your list, guided by a large boxed letter that appear in the middle of the display that tells you where in the alphabet you are. Taken together, these two touches make finding the right contact quick and easy.
Similar topics