Apps
The Droid comes with a broad array of apps, most of which are noticeably more intuitive than the overall Android UI.
Take the Maps app, for example. Fire it up, then tap the menu icon below the screen. Doing so will bring up six choices: Search, Directions, Layers (traffic, satellite, directions, and, yes, the infamous time-waster and privacy-defier, Buzz), My Location, Latitude, and the ever-popular More. Among the selections in the More menu is Labs, which leads you to a display of items that Google Labs is working on to enhance the Maps app - these currently include a scale bar to show distances, a terrain layer, a compass arrow, and more.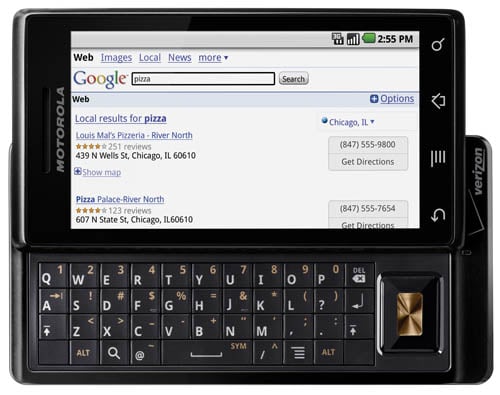 The Droid browser's Flash support remains "coming soon"
The Latitude menu item takes you to - what else? - Google Latitude, which on the Droid is better integrated than Latitude on a certain Cupertian phone, where Latitude must be accessed through the browser.
The Droid's User Guide, however, mentions that Latitude is "not available in all areas." When we asked the company exactly what that means - that is, what percentage of the US has Latiitude support - we were given a somewhat roundabout answer:
Latitude uses both satellite and cellular network data. The satellite is used to pinpoint your location and the cellular network sends data such as maps to your handset. If you are not line of site to a satellite, the service is less accurate or may not be available. If you do not have network access you may not have maps delivered to the device.
In other words, try it out, and if it works, it works; if it doesn't, it doesn't. Fair enough - any more-specific answer would be impossible.
One final note about Maps: Although Android 2.0 supports multi-touch pinch-to-zoom, the Droid makes limited use of it. The Maps app, however, does support this feature, but other apps such as the broswer don't.
Speaking of the browser, it has quick and clean bookmarking capabilities that allow both page and list views, a Most Visited sorting, and a proper History listing. It also provides the ability to search for words or terms on a page, and to send a URL via email, Gmail (yes, the Droid always keeps those two separate), SMS, or to a Facebook contact.
Adobe Flash is not yet supported in the browser. A Motorola spokesperson told us that a Flash update - 10.1 - should arrive "in the first half of 2010." If you're dying to find out what Flash content will (eventually) look like on the Droid, however, you can check out a promo video here."
That's all good stuff. But then there's the Droid's Camera app.
Similar topics