More apps - and a clunky camera
First the camera hardware: it's a 5-megapixel autofocus with 4x digital zoom and a dual-LED flash - but don't let the healthy megapixelage fool you. In a digital camera, image quality is a function of the size and quality of the sensor plus the quality of the optics. No camera phone takes photos anywhere near good enough to satisfy a photographer's eye, and the Droid is no exception, despite its series of scene modes and white-balance choices.
That said, a smartphone's image-processing circuitry can attempt to pump up colors, handle white balance, and improve sharpness. The Droid is a disappointment in all these areas. Despite the Droid's higher megapixelage, our testing showed the iPhone 3GS's 3-megapixel camera to capture better images - that is, in situations with good lighting. The Droid's flash helps it in low-light situation in which the flashless iPhone struggles.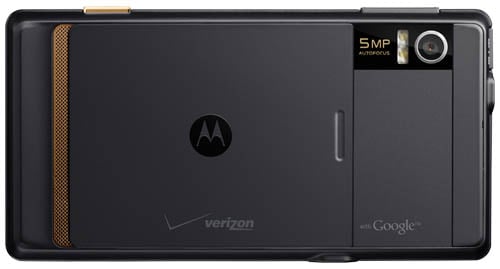 Don't be fooled by mere mexapixelage
And the camera app itself is a bit of a pooch. First of all, it's slow - slow to launch, slow to focus, and slow to shoot. We were happy to see that it had a macro mode, then unhappy that that mode worked poorly; happy to see that it had multiple preset "Scene Modes," then unhappy that they didn't help much. The camera hardware taken together with the camera app limit the Droid to an emergency camera for caputing that next incidence of party embarassment for YouTube posting.
And, yes it does video. As might be expected, the video quality is no great shakes, but it's surprisingly acceptable given the camera's limitations. That surprisingly acceptability, however, is limited to when the camera is cranked up to high resolution (720 by 480). But if you want to send a video over MMS, you'll have to dial down to low resolution - which is of as poor quality as you might expect - before the Droid will let you send it. You'll also have to dial down a separate video-length setting to 30 seconds or less. A single "video-for-MMS" setting would have been welcome.
We had far more positive experiences with the Droid's Calendar, basic Phone, and Contacts apps, although contacts can be synced only with Exchange and Google contacts - Mac users on Entourage are out of luck. There's enough richness in the Droid's on-board apps to have made this review three times as long as it already is if we delved into it all. So just trust us.
One note about the Music app, however. To load music onto the Droid, you simply hook it up to your PC over USB, then drag and drop tunes into the Droid's Music folder - which you may need to create. You can also use use Windows Media Player to sync music from your PC to your phone. Supported music formats include AMR-NB/WB, MP3, PCM/WAV, AAC, AAC+, eAAC+, MIDI, OGG, and WMA. No DRMed tunes are allowed - if you drag into the Droid's music folder, they don't even show up in playlists.
Oddly, there's no mention of loading and playing video in the Users Guide. We did discover, however, that you can drag videos into the Droid's Videos folder, and they'll show up in the Gallery app where you can launch them. Among the file formats we successfully tested were .GP3, .WMV, and .M4V; what didn't work was .MOV.
When you play a video, by the way, the Droid's much-vaunted multitasking goes on holiday. If, for example, you'd like to listen to the soundtrack of a video while working in another app, you'll be disappointed: when you switch to a different app, the video's audio stops. A Motorola rep told us that this is because although you can run other apps - such as music - in the background, you can't run two apps that want to use the display. Reasonable, but disappointing.
The Droid comes with no on-board Notepad app. There are, however, an assortment of quick note-takers available in the Droid-accessed Android Store - we used the free app AK Notepad, which worked just fine.
Typing into the AK Notepad, however, brought up one oddity of the Droid interface: the way it handles predictive spelling - or, in the Droid's case, what might be better described as "suggestive" spelling.
When typing on the soft keyboard, a list of words based on your entered text - whether that entered text is correct or not - appears at the bottom on the notepad's display area. For example, typing "giig" adds "Google" to the horizontal list; tapping on a word in the list replaces the typed text with the suggested word.
This is all well and good, and works fine, but it is a bit distracting to have to scan back and forth from the typed text to the ever-changing word list. That said, one of our testers who types frequently on her iPhone preferred the Droid's suggestive spelling - she felt that it sped up her typing chores since after typing only a few letters she could merely tap to insert a full word and get on with the next entry.
What's odd - and a bit of a disappointment - is that the same suggestive spelling trick doesn't work when you're using the physical keyboard. Go figure.
Finally, text entry has no Undo, no magnification to help place the cursor, and the cursor itself is one-pixel thin, making it hard to locate for users with aging eyes. And yes, Android does have cut-and-paste, a basic feature that took the iPhone until version 3.0 to implement.
Similar topics