Performance
The Droid's ARM Cortex A8 processor runs at 550mHz - the Palm Prē's A8 runs at 600MHz, as does the iPhone 3GS's. That difference in clock speed, though, isn't noticeable - apps launch snappily and browser pages render speedily - and the savings in battery life are welcome, if minor. The only performance problems we experienced was some stuttering when sliding open the apps drawer or the Notifications drop-down pane.
In our experience, the life of the 1400 mAh Li-Ion battery was more than adequate, easily making its way through a day of moderate use. In addition, the Droid provides a widget that you can install on your home screen that allows you to easily toggle on and off such battery-busters as Wi-Fi, Bluetooth, GPS, sync, and display brightness.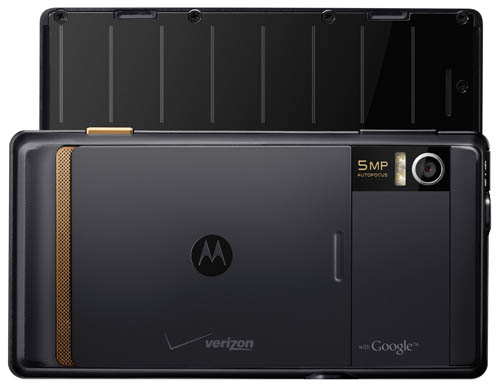 Underneath that rubberized casing beats a 550MHz heart
The phone also provides great battery-usage stats in Settings > About Phone > Battery Use tell you what by percentage what phone activity - idling, cell standby, the OS, display, Wi-Fi, and the like - has been taxing your battery.
We'd love to show you a screenshot of that nifty (and, admittedly, somewhat geeky) Battery Use display, but the Droid doesn't natively support screenshots - although there are workarounds that involve either installing the Android and Java SE SDKs or Android apps such as ShootMe or Screenshot that require you to "root" your Droid to install them. We didn't bother. The lack of native screenshots isn't a big deal for your average user, merely a mild annoyance to someone who wants to send a quick screen-snap to a friend.
Which brings us - finally - to the Droid's performance as a phone. And here our results were not only mixed, but can't be considered definitive due to the fact that phone-call performance is function of both a phone's hardware and its carrier's network.
Our testing involved comparing the call quality of an iPhone to that of a Droid, calling both landlines and mobile phones from various locations with both solid and poor signal strength. In all cases, the iPhone and the Droid had different timbres, with the iPhone's call quality clearer but of a more limited sound spectrum.
In general, the iPhone's timbre was centered higher in the spectrum and with less distortion than that of the Droid. When signals to both were strong, the Droid had a noticeable "inside a garbage can" echo - subtle, but present. We experienced no notable difference when calling to either landlines or mobiles.
But when the iPhone's signal strength was poor - not a rare situation for AT&T service here in San Francisco - calls from it were muffled and spotty. The Droid's Verizon signal was uniformly strong, but its clarity remained somewhat muddy.
Verdict
The choice of a smartphone is a highly personal one. Some users prefer physical keyboards, and some type faster and more accurately on soft keyboards. Some users prefer a simple, straightforward user interface, and some want the myriad options of a highly customizeable UI. Even the timbre of a simple phone call can be subjective, with some prefering a more focused sound and some favoring a wider tonal range.
That said, there are good phones and there are bad phones. And the Droid is a good phone. It's solidly built, its on-board apps are well-designed, and its third-party app collection is large and growing larger.
On the down side, its keyboard can't compete with that of a Blackberry, its basic UI is a mixed bag, and its camera and its support software - both internally and in the Camera app - is in need of a redo.
But if you want to avoid Apple's tight control over the iPhone 3GS, if the Palm Prē's uncertain future and limited app selection give you pause, if you're an Android fan who prefers a physical keyboard over the soft keyboard of Google's Nexus One, or if the Nokia N900 is a wee bit too chunky for your tight-fitting jeans, you'll be more than happy with a Droid.
It's a nice phone. But... ®
Similar topics