Flip open the lid and one of the first things to leap out is the display. Its size and resolution - 10.1in, 1024 x 600 - are standard, but unlike the vast majority of netbook screens, this one has a matte finish. Movies don't look quite as vibrant, but reflections are almost non-existent.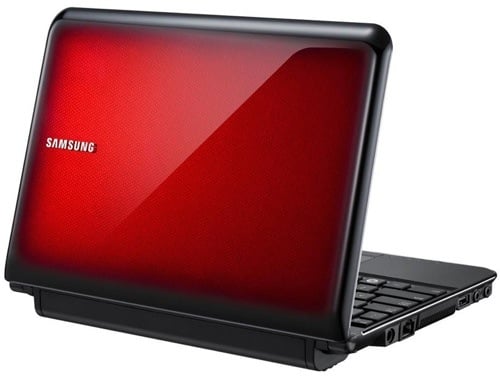 Does my batt look big in this?
That said, it didn't perform too well in bright sunlight. The display also has a thin and totally unnecessary glossy rim around it – if there's a light source behind you, this serves only to create small but distracting reflections at the edge of the screen.
Samsung has mustered up some stunning netbook keyboards in the past. Here, it has ditched the standard laptop-style design and gone for a calculator style. It looks better, but keyboards are for typing on, not gawping at. That's not to say it's a bad keyboard, and some may well prefer this isolated key design, but having been so impressed with its previous keyboard designs, we feel Samsung should have kept faith with the version that featured on the N140.
The N220's touchpad measures 63 x 40mm, accepts multi-touch gestures and benefits from a smooth texture. We'd prefer individual left and right buttons instead of the rocker-bar found here.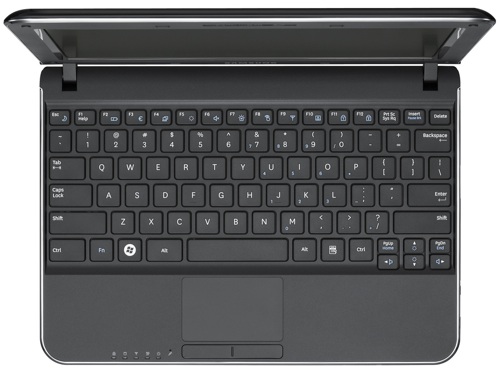 Samsung has gone for a calculator-style keyboard this time
Note this is the US layout
The speaker system is a cut above what we're used to seeing on netbooks. Two speakers at the front combine with a sub-woofer to produce impressively loud and ear-pleasing audio. The miniature sub isn't exactly what you'd call thumping, but it does reduce the nasty tinny effect that plagues most netbooks. Check out Asus' Eee PC 1005PE if you're looking for another netbook with a beefy sound.