Flip the netbook on its belly and the single memory slot can be accessed by removing a small panel. This comes with a 1GB SO-Dimm installed but will gladly accept a 2GB card – something the pre-installed Windows 7 Starter OS will be eternally grateful for. Accessing the rest of the components, isn't quite so easy and requires the removal of the entire base.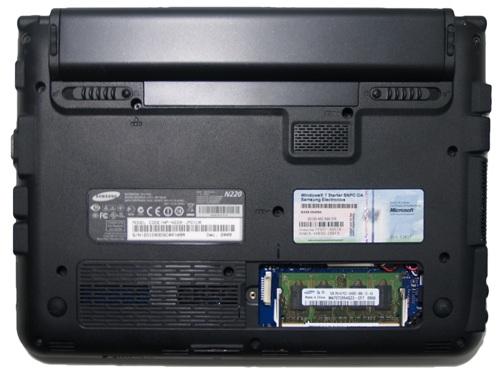 Memory is easy to upgrade - other components less so
Samsung has taken the opportunity to shuffle the placement of ports compared to previous models, but it's still the standard netbook array of three USB, VGA, card reader, 10/100Mb/s Ethernet and analogue audio. Wireless networking comprises 802.11n, and Bluetooth 2.1 is included too.
The 1.66GHz N450 might be the latest Atom processor, but, as with other Windows 7-based netbooks, performance is a little sluggish. Firing up a web browser takes a few seconds and we occasionally experienced short pauses before keystrokes were recognised.
As always, Linux provides a noticeable performance boost, but our test run with Ubuntu wasn't exactly plain sailing – the most notable issue being the OS' refusal to recognise the Realtek RTL8192E wireless card. We managed to get it working by using the XP driver with NDISwrapper but although this worked fine for us, we've heard reports of stability issues cropping up with long-term use.