Review With turn-by-turn navigation rapidly becoming the favoured give-away on smartphones, it's reasonable to ask what the future holds for the dedicated in-car satnav makers. Arguably, there will always be a market for cheap entry level satnav units, because not everyone has a smartphone. At the top end of the market, larger screens and advanced navigation options for the high mileage motorist should also help keep sales going in the right direction.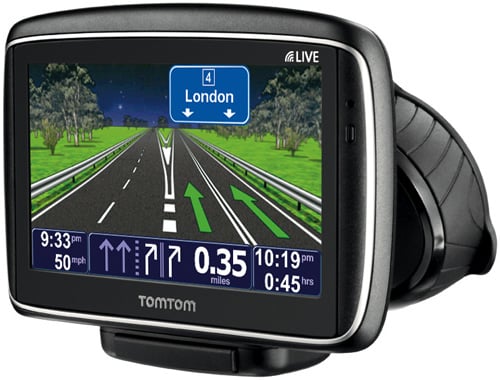 The road ahead? TomTom's Go 550 Live
TomTom's new Go x50 Live satnav series has the latter user in mind. The cheapest model of this range is the 550 which does not have much to distinguish it from the 540 it replaces. The design is solid, smooth and rounded as we have come to expect from TomTom and the 4.3in screen is bright, colourful and highly reactive to the touch.
The screen cradle stays the same, which is a good thing as the current TomTom mount is just about the best there is. The basic feature set is similar to the 540 too, and provides everything you would expect from a top flight satnav including voice control, text-to-speech and lane guidance graphics.
However, the first change you will notice is the slightly warmed over GUI. It's more pleasing to the eye, with all the on-screen boxes having rounded corners and clearer separation lines, while screen transitions are now animated. Round the back the new, larger speaker makes guidance instructions louder and clearer and improves the call experience when hooked up to your mobile up using Bluetooth.
The most important new feature of the x50 series is the Live Snapshot tab that appears when the unit has calculated your route. Hit the tab and you can see at a glance if there are any current traffic problems on your route, where any speed cameras lurk and the location of the cheapest fuel along your planned journey – useful things to know before you hit the highway.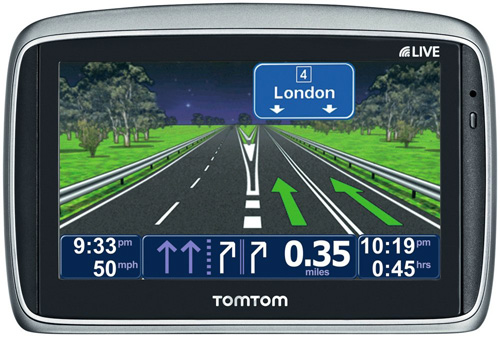 Many features remain unchanged, although the graphics have been improved
Another new feature is the ability to register the location of unrecorded speed camera locations by a tap on the main screen. Once registered, the data is checked by Road Angel which supplies camera information to TomTom and then added to the database, so your unit's list of government ATMs should always be up to date.