Also new is the Eco Routes option. This plots a route that will use the least fuel and, frankly, is a bit of a gimmick. The suggested routes are often the same as the fastest. So, if you want to save fuel, just don't drive like a speed-freak hooligan.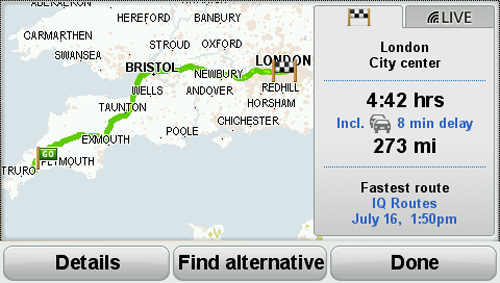 Journey overview
The Live data moves to and from the 550 using GPRS - and that ain't free. Costing £8 a month, this gives you access to Google Local Search – which is not to be sneezed at – along with a weather forecast app and QuickGPSfix, which uses cellular location to speed up the GPS plot. In the spirit of try-before-you-buy TomTom give you the first month's Live subscription free.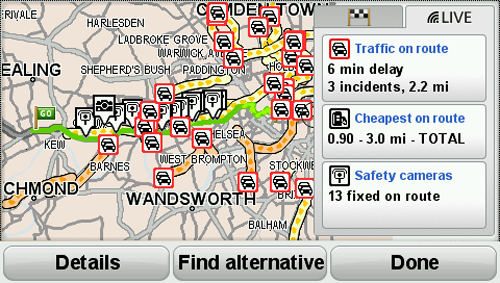 Information overload?
The basic navigation system remains unchanged from the x40 series, which means it's wholly reliable and that the Big Idea is still TomTom's HD Traffic. This gathers real time data from anything up to 16.7 million anonymous mobile phones moving along the UK's roads at any given time. Combined with TomTom's IQ Routes, which looks at historical congestion data for any given road at any given time, the system delivers probably the best picture possible of the state of current traffic movement and the best way to navigate through it.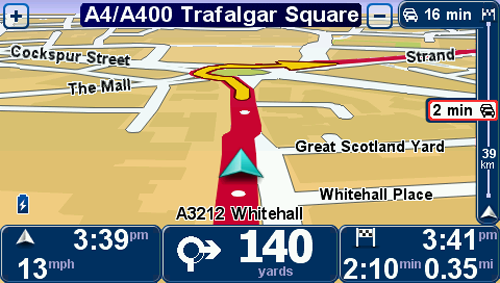 Main navigation view
The 550's qualities shone through during a particularly horrendous late afternoon journey from west Manchester to Bolton Royal Infirmary, then on to Liverpool Airport and back home via stops in Runcorn and Wilmslow. Not a trip you'd want to make on a weekday afternoon. The Go 550 spotted and re-routed us around major traffic problems on the M62, M6 and A34 as well as finding some impressively cheap petrol - 89p a litre - just outside Knutsford.
Sponsored: Webcast: Discover and secure all of your attack surface