Analysis A Silicon Valley startup backed by the rainmaker who got Google off the ground is about to formally announce a miraculous, shoebox-sized device capable of powering a house - "anywhere, with no emissions" according to the BBC.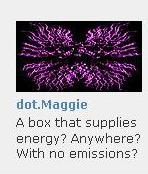 No, actually
Of course that's just Beeb Twitter-journalism twaddle, and the firm in question - Bloom Energy - makes no claim of zero emissions or freedom from infrastructure. But the firm's executives and backers do think that many people in future may choose to install a small "Bloom Box" in their home and use it to generate electricity from such fuels as natural gas and ethanol.
The technology in the box is nothing more than a hydrocarbon fuel cell, and naturally it takes in oxygen from the air and emits CO2 just like an ordinary hydrocarbon-fuelled generator. But it is more efficient: and unlike most fuel cells, according to its makers, it is cheap to make.
That, in a nutshell, is it: a cheap gas-powered fuel cell. We've requested some actual tech specs from Bloom, but we're still waiting. The firm is playing the hype game particularly hard, with tailored, closely managed leaks to select media in recent days building up to a global announcement in a few hours' time.
However, the broad outlines of the Bloom Box are clear. The fuel cells are said to be made of cheap materials - "sand and ink" according to interviews given by Bloom CEO KR Sridhar - and to be undergoing trial deployments at various customer facilities in California. Wal-Mart, FedEx, eBay and Google have been named as customers.
Mostly the pilot Bloom plants - larger, fridge or car-sized units intended to power large buildings - run on ordinary fossil-fuel natural gas, but some users intend to use gas sourced from landfills or other more eco-feely sources.
Benefiting from lavish Californian eco-subsidies - much though there's nothing particularly eco-friendly about making electricity out of fossil fuel - and the known fact that a kilowatt-hour of gas is much cheaper than one of grid electricity, the Bloom units are reported to cut into a building's electricity bill quite substantially, as one would expect.
A prominent investor in Bloom is John Doerr of Netscape and Google fame, who thinks that homeowners may choose to install Bloom boxes: even that power companies may place larger ones in substations. Sridhar, a one-time NASA engineer, considers that small, affordable units could be a boon to customers in developing nations without access to grid electricity.
If the Bloom cells are as cheap and reliable as the firm suggests, the tech may indeed become very popular. But, contrary to the company's spin and the rapidly mounting hype, this would ultimately be a disaster in terms of carbon emissions and energy security for the Western world.
Properly carbon-busting fuels like garbage gas are never going to supply a big fraction of a developed nation's power - a few per cent is a likely maximum. As for ethanol, the only way this can be produced in a vaguely green way is as biofuel from food crops - and this equates to starvation for the world's poor plus accelerated deforestation with associated eco-evils.