This article is more than 1 year old
Lingerie model ran 'Charlie Angels' drug gang
Argentinian police seek scantily-clad cocaine cartel boss
Argentinian police are hunting a 30-year-old former lingerie model accused of running an all-women cocaine-smuggling gang, Argentina's La Nación reports.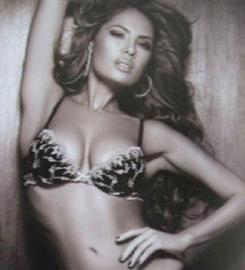 Colombian Angie Sanclemente Valencia was crowned her native land's Queen of Coffee in 2000, but following a relationship with a Mexican drug lord known as "The Monster", decided to ditch both him and her modelling career to set up her own Argentina-based trade in narcotics.
Police say she used other lingerie and fashion models, described as her "unsuspicious, beautiful angels", to smuggle cocaine from Colombia and Argentina to Cancun in Mexico, from where it was dispatched to Europe.
Her Charlie Angels - recruited by a 25-year-old male model known as Ariel L - earned £3,200 for every smuggling flight. Mr L received £1,300 for arranging each trip.
The wheels came off the plan on 13 December, when Ariel L's 21-year-old girlfriend, María N, was cuffed at Buenos Aires's Ezeiza International Airport with 55kg of cocaine on open display in her suitcase.
A police investigator said: "Ariel L and María N were confident, since their contacts in the organisation had assured them that everything was arranged at the airport and nothing would happen, and that explains why the drugs were in the bag without any attempt to hide them."
Three further arrests followed, but Valencia disappeared from a four-star Buenos Aires hotel and hasn't been seen since. She's now the subject of an international arrest warrant, while police are investigating just who was working for the gang in Ezeiza International Airport. ®