The US has unveiled the design of its new embassy in London - a "carbon neutral" glass cube described as a manifestation of the "core beliefs of our democracy - transparency, openness, and equality".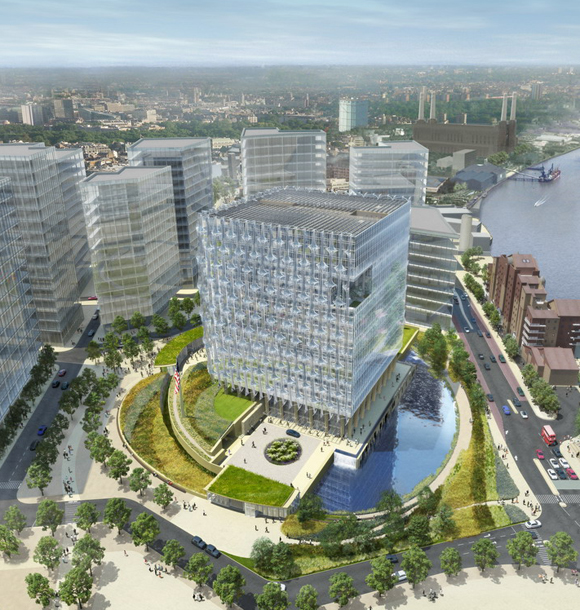 Philadelphia architects KieranTimberlake are at the helm of the £650m project, destined to land in Nine Elms, Wandsworth, in 2017. Embassy staff will up sticks from their current Grosvenor Square abode which is suffering from old age.
Louis Susman, US ambassador to the UK, explained: "We will replace our current embassy, which has become overcrowded, does not meet modern office needs and required security standards - and, after 50 years, is showing signs of wear and tear.
"This effort has special significance in that we are creating a new home and focal point for one of our most cherished and bilateral relationships."
Indeed, KieranTimberlake explains that "visual presence" of the 12-storey diplocube is "that of a beacon that is a respectful icon representing the strength of the US-UK relationship".
Highlights of the visual presence include a landscaped "Embassy Park" surrounding the structure, open to all Londoners. The architects explain that "the embassy grounds will provide the prospect of an open park, a landscape of grasses rising gracefully to the new embassy colonnade, with the required secure boundaries incised into the hillside and out of view".
KieranTimberlake's Strategy Boutique continues: "The spiraling form of the landscape is expressed through grading, walks and plantings in a way that simultaneously opens out to the city beyond and spirals inward as it envelops and then moves up into and through the embassy building. As a choice of form, the spiraling garden is meaningful as it represents connections of site to landscape to building."
Ground-breaking on the site is scheduled for 2013. Adam Namm, acting director of the US government's overseas building operations, said UK sub-contractors would likely benefit from working alongside the main US builder. The UK treasury will not, however, be getting a slice of the action, if the US gets its way.
Namm declared: "We feel we should not be subject to VAT. We've made this view known to Her Majesty's Government."
According to the Telegraph Treasury officials are mulling that, although a spokesman stonewalled: "We cannot comment on the tax affairs of individuals or specific organisations." ®