This article is more than 1 year old
Nokia No.2 is so sorry for N97 debacle
Apologises to general public for leaky flagship
CEO confessionals are all the rage now, but Nokia's No.2 executive has apologised for Finland's 2006 winning entry in the Eurovision Song Contest ("Hard Rock Hallelujah" by Lordi), the lack of jokes in Aki Kaurismäki's dramas, and the Nokia N97 phone. Actually, no - we made the first two up.
But Anssi Vanjoki said the £500 flagship "has been a tremendous disappointment in terms of the experience quality for the consumers" and promised it won't happen again. That's quite a change of tune from September's Nokia World show, where he touted great sales numbers.
The EVP of Markets told All About Symbian's Rafe Blandford that while commercially it had been a success, the reception has obliged Nokia to revise its QC and product development.
The N97 was rushed to market last summer to go head-to-head with Apple's iPhone 3GS. I wasn't the only reviewer who wanted to give the underdog a fighting chance, but found it underwhelming. It was full of bugs, some serious, and memory and usability issues. The X6 I reviewed last month rectified very few of these.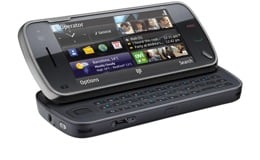 Nokia N97
The N97 has since been sidelined in favour of the smaller, hopefully less buggy N97 mini, which sister site Reg Hardware reviewed here.
Vanjoki also said that Nokia had kept relying on an out of date Symbian for too long.
But there's bad news if all you want is an updated version of the N95, a solid conventional slider phone. It doesn't really figure in Nokia's plans anymore - or at least not for high-end premium devices.
"I think what we have seen is that the usability of the different services is much more about large screens and direct access to things, rather than pull down menus and things like this. So I think that these hybrids are in particular, the ones where you have full QWERTY and beautiful large sized touchscreens," he says.
Transcripts of the chat are here and here. ®