This article is more than 1 year old
Pentax K-x
Photo finesse?
Review The Pentax K-x is arguably one of the smallest and more accomplished entry-level DSLR cameras on the market. The K-x inherits the compact body and the simple layout of the K-m while squeezing in quite a few of the high-end features of its bigger brother, the K-7.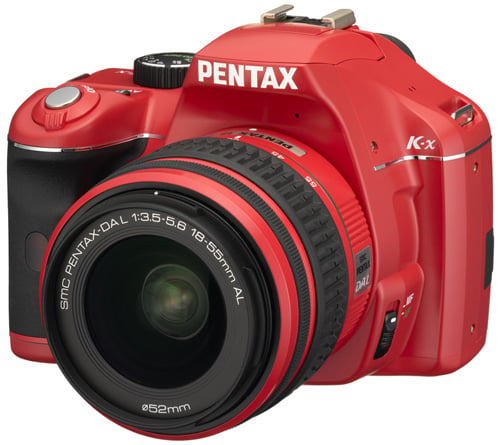 Colour photography: Pentax's K-x
The 12.4Mp sensor measures up at 23.6 x 15.8mm and features a dust removal system and in-body shake reduction. The K-x shutter speed ranges from 1/6000 to 30 seconds and it's capable of continuous shooting at up to 4.7 fps, as well as 720p HD video. It also features an 11-point, wide-angle autofocus and offers Live View on its 2.7in, 230,000 dot LCD panel. All in all, not bad for an entry-level camera.
The basic kit comes with a DA-L 18-55mm lens and costs £600. Given the spec, the K-x appears pretty good value and is likely to prove a very tough competitor for its main rivals, the Canon EOS 500D and the Nikon D5000. While Pentax's decision to power the K-x with AA batteries might not appeal to everyone, this choice does increase portability. AA batteries are everywhere and you're not constrained by having to find a mains source to recharge the camera. And if you can't abide the waste, a set of high capacity AA rechargeables plus charger can be picked up for less than 20 quid.
Playing on the fun factor, the K-x comes in four different body colours: black, white, red and navy, while in Japan an astonishing 100 different colours are available. At 122 x 92 x 69mm and 581g, its small, light body makes it inconspicuous and easy to carry around – ideal for serious beginners and travellers. Furthermore, its range of in-camera processing features and digital filters offer a genuinely creative photographic experience.
The reinforced plastic body of the K-x feels solid and has a good ergonomic grip, yet it's a shame that Pentax doesn't offer the weather seals of the K-7. The layout of the external controls have been cleverly designed and, according to Pentax, is to allow for 'one-handed operation'. Indeed that holds true. All settings can be easily and intuitively accessed with one hand, that hand being the right one though.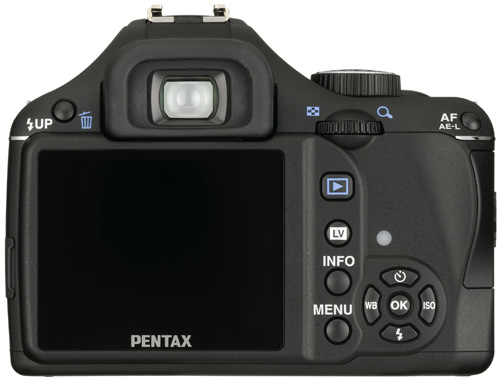 A dedicated Live View button makes for swift viewing mode changes
Unlike many other camera makers, Pentax actually provides a dedicated Live View button that makes it easier to switch between viewing modes. However, there's a very annoying blue on/off light located on the top right end of the camera next to the shutter. The light is so bright and large that it interferes with the visibility of the LCD screen in dim light conditions. The good news is that the viewfinder is large – 96 per cent area of coverage – and clear, so the dazzling blue light issue was bypassed by framing through the viewfinder in low light.