This article is more than 1 year old
Pentax K-x
Photo finesse?
The useful HDR Capture (only available for JPEGs) is a well-conceived automatic feature that works by shooting three photos with different exposures and combining the better-exposed areas of each to produce a perfectly balanced final picture. The drawback is that it only works with studio shots or tripod work because hand movement would produce blur.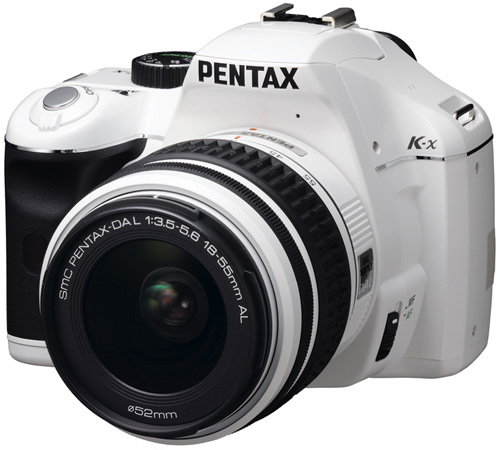 Great value with plenty of creative options
The K-x also sports a D-Range option that allows you to correct the highlights and/or shadows in high contrast situations, and a Colour Temperature Enhancement setting that corrects colour cast in situations where the prominence of a particular colour produces a washed out effect or distorts the automatic white balance, such as a grass landscape scene. Probably the coolest addition to the K-x creative tools is its Multi-Exposure drive. It lets you merge up to 9 different pictures using Auto EV Adjust - if selected – to combine all the different EV values into one correct exposure.
Another K-x boon is HD video, recording 12 minute AVI files at 720p at 24 fps or SD video for 25 minutes a time. The downside is the lack of a HDMI port and its mono microphone – there's no external mic input either and the sound is certainly noisy, picking up all the camera's internal whirrings. Definitely room for improvement there. Also, unless you read the manual, shooting a video may prove a challenge. Although there is a Video Mode on the main shooting dial, the video won't start unless you either engage manual focus or focus on a subject by half-pressing the shutter before releasing it and then press it again to start recording.
In video mode, you can choose between manually setting the lens to a specific aperture or use the Auto Aperture setting, with either option giving you some form of control over depth of field or brightness, which is more than Canon's EOS 500D does.
Verdict
If you can tolerate the slow Live View autofocus and a few minor handling flaws then this camera is a near perfect choice for a first DSLR. Just be sure the firmware is up-to-date to avoid possible power issues. Overall, the K-x offers an image quality and a photographic performance to rival many higher end cameras, with the inclusion of fun and user-friendly features to satisfy the most creative of beginners and enthusiasts alike. ®
Catherine Monfils is a professional photographer specialising in portraiture, lifestyle and fashion.
More DSLR Reviews...

Sony
Alpha A550

Pentax
K-7

Nikon
D300s

Canon
EOS 500D

Pentax K-x
A great all-rounder with little to complain about as a stills camera. However, the video sound picks up a lot of internal noise.