The final test firing of a space shuttle Reusable Solid Rocket Motor (RSRM) went without a bang yesterday, as NASA prepares to retire the shuttle fleet.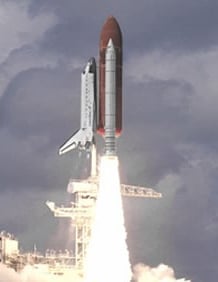 Since the first test in July 1977, ATK Launch Systems has carried out 52 similar ground-based proving operations on the monster lifters, which have carried shuttles aloft 129 times.
Yesterday's event in Promontory, Utah, was "to ensure the safe flight of the four remaining space shuttle missions". The "flight support motor, or FSM-17", in NASA parlance, burned for around 123 seconds, while "a total of 43 design objectives were measured through 258 instrument channels".
David Beaman, RSRM project manager at NASA's Marshall Space Flight Center, said: "Today's test was a great deal more than the successful conclusion to a series of highly successful NASA/ATK-sponsored static tests that began more than three decades ago.
"These tests have built a base of engineering knowledge that continued engineering development of the reusable solid rocket motor system and the continued safe and successful launch of space shuttles. They have provided an engineering model and lessons learned for additional applications in future launch systems."
ATK's description of the RSRM notes the beast is "just over 126 feet long and 12 feet in diameter", and weighs 1.25 million pounds of which 1.1 million pounds is propellant.
The blurb continues: "Each Space Shuttle launch requires the boost of two RSRMs to lift the 4.5-million-pound shuttle vehicle. From ignition to end of burn, each RSRM generates an average thrust of 2.6 million pounds and burns for approximately 123 seconds.
"By the time the twin RSRMs have completed their task, the Space Shuttle orbiter has reached an altitude of 24 nautical miles and is traveling at a speed in excess of 3,000 miles per hour. Before retirement, each RSRM can be used as many as 20 times."
A spin-off of the shuttle RSRM is the first-stage propulsion system for the Ares I Crew Launch Vehicle, and ATK is also tasked with providing the launch abort system for the Orion Crew Exploration Vehicle.
The future of both is presumably in doubt following the apparent cancellation of the Constellation programme, although ATK says: "Crew transportation to the International Space Station is planned to begin no later than 2014. The first lunar excursion is scheduled for the 2020 timeframe."