Review 2010 is supposed to be the year that 3D breaks into mainstream home entertainment but most of the PR puff has been focused on expensive TV sets. Acer does a good job of making this currently tiny market a damned sight more interesting with its H5360, a sub-£600 '3D Ready' digital projector.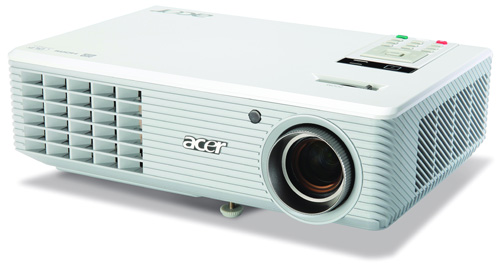 3D ready? Acer's H5360
The H5360 is a small-ish (268x192x80mm) and light-ish (2.2kg) DLP projector built into a shiny white casing that will look at home in a modern living room, and pretty smart in a boardroom. Home movie theatre enthusiasts should note that it's 'HD Ready' credentials extend to 720p only, not 1080p: the H5360's native resolution is 1280x720 pixels. You can use an enhancement mode to mimic 1920x1080 resolution, but interpolating pixels like this never works as well as you wished it would.
The lens can be adjusted for a zoom using a dial lever conveniently located on top of the unit. Focus, however, is adjusted using a notched ring, snugly and inconveniently located around the red-hot lens itself. So many projectors are built like this, but why? After setting up a projector, you only ever set the zoom once, but fiddle with the focus all the time.
More helpfully, Acer has built all the connectors at the back of the case, which simplifies cable management. The projector comes with ports for VGA, component video, composite video, S-video and HDMI, plus a small RS232 serial port and a 3.5in audio-in socket. The built-in 2W speaker is inevitably tinny but it is also loud and very clear. There is also an obligatory Kensington lock slot.
You can prop up the projector by rotating the central front rubberised foot on its screw but it only raises it by about 1cm. One of the two rear feet can also be adjusted for stability in the same way and by the same amount. The unit can be ceiling-mounted, and the base incorporates a standard tripod screw mount, which we used with notable success.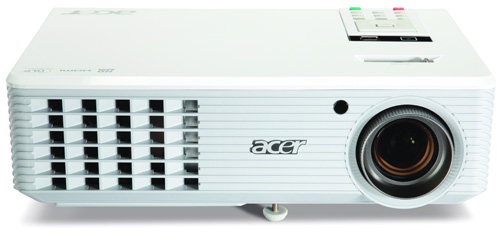 A slot on the top right accommodates the remote control handset
We tested the H5360's 2D image using DisplayMate Utilities. The unit produces an outstandingly bright and crystal clear image quite beyond what we expected from a DLP projector in this price range. There was no DLP 'halo' around the edges of the image and we discerned no rainbow effect when viewing from the sides – subjectively speaking, of course.