A robot-aeroplane inventor with successful designs behind him has come out with a radical new kind of skydroid which, he says, offers long range combined with vertical takeoff and landing - and automated ground support as well.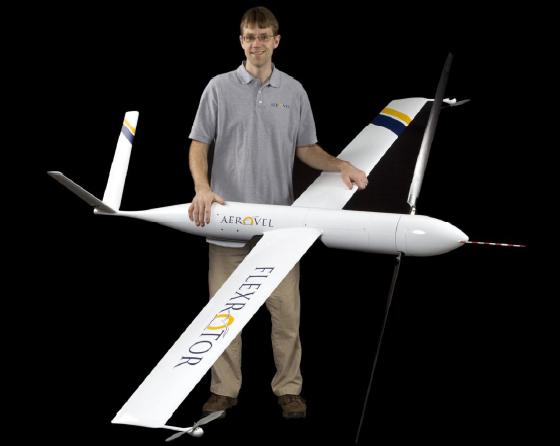 You can take the inventor out of the garage...
Tad McGeer started a company called Insitu - in classic style, in a Silicon Valley garage - back in 1992, out of which came the ScanEagle drone. This was originally intended for such purposes as helping fishermen to track shoals of tuna fish, but in fact it has seen greater takeup by the US Navy. Insitu was sold to Boeing for a hefty sum.
While it can be operated from quite small vessels - as the Navy SEALs have shown - the ScanEagle's pneumatic catapult launcher and "SkyHook" recovery pole are still seen as a bit too cumbersome for many civilian clients. Furthermore, according to McGeer, the ScanEagle still needs too many supporting humans to look after it on the ground or base ship, which makes it too costly for civilian use.
Hence the Flexrotor from McGeer's new start-up firm Aerovel. The Flexrotor is intended to lift off and set down vertically hanging from its large main prop, rather in the style of the "tailsitter" prototypes of yesteryear. In the hover, it will use two tiny wingtip thrusters to counteract the big prop's torque, doing the same job as a helicopter's tail rotor.
"Our interest in VTOL is economic," says McGeer. "With Scaneagle we made operations practical for boats like tuna seiners, but the equipment is too big for small vessels, or to be conveniently shipped. With VTOL your ground equipment can be made much more portable, which is not just convenient but, for some applications, positively enabling."
The Flexrotor won't actually sit on its own tail, but will be recovered into a special automated ground/deck station by some as-yet-unannounced means which is intended to cope easily with severe weather conditions. This auto-base will be less cumbersome than the ScanEagle's large catapult and Skyhook recovery pole, and will largely eliminate the need for any ground support crew.
"Hover allows us to take a big further step," says McGeer. "Flexrotor is being designed to make the whole turnaround automatic: retrieval, parking, refueling, and launch, all using one lightweight base station. So we'll be able to eliminate the manpower, and some of the risks, associated with deck handling."
The Flexrotor will also be able to fly itself on such mundane tasks as geological survey, needing only very basic instructions as to where to go. It can carry a 1kg instrument package, and McGeer and his colleagues expect it to stay up for 40 hours on a single fill of two-stroke fuel. A small fleet of the aircraft could potentially be operated by a single person - nobody would need to fly them, refuel them etc as they would simply fly themselves in and out of their automated replenishment stations.
"[Geomagnetic surveying]'s a natural job for robots: flying parallel lines very precisely at low altitude, usually in remote areas," says McGeer. "A ground station and a bunch of Flexrotors could be shipped into a rough base site, and one person could keep them flying from there with high utilisation. That's a formula for getting costs down."
The Flexrotor is expected to fly for the first time this year, and to enter trials with customers in 2011. ®