This article is more than 1 year old
Opera's Jon Von Tetzchner on browser choice, the iphone and Google
The highlights
Interview In a wide-ranging interview today Opera chairman Jon von Tetzchner talked about the Browser Choice ruling, Opera's iPhone app, Google as a competitor, and how P2P will be the next generation of the web. Rather than pad it out with waffle, here are the highlights with signposts.
On the EC's Browser Choice screen
The Commission has impressed us. Microsoft is a very big company and the European Commission is a fairly small group of people. A lot of people weren't expecting this decision.
Bundling alternative browsers with Windows was rumoured to be one of the solutions around ten years ago, along with opening up the Windows source code. Then came the 2000 election, a change of administration, and the case was settled about two minutes after that.
It shows the importance of regulation, that the rules are there for a reason. Like a referee in a football match, nobody really challenges their right to be there.
Now people have a choice of a faster, more secure browser. We hope people will try it out, we think we'll come out well if they do. It's also good for Microsoft, too. IE has improved a lot. It now passes the ACID2 standards test for example.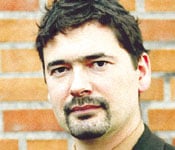 Opera chairman Jon Von Tetzchner
[Ed's note: the new randomised browser choice screen doesn't appear if you have FireFox selected as a default browser, only if IE is the default. But it does appear on Windows XP and Vista, not just Windows 7. And it doesn't appear on Mac.]
So we have four browser cores and they should compete on standards, not succeed because one works and another doesn't. These four browser cores are not going away.
On Chrome
You know what Chrome means? It's plating, a skin. That's what Chrome is.
I often say there hasn't been a new browser in ten years. People are surprised by this, but there hasn't been a new browser core for ten years. Chrome and Safari are the same, they're both based on kit, and webkit is based on work by KDE.
Google has done a fair amount of work. It's written its own JavaScript engine, to be fair.
On the per-process model
We actually tried that ten years ago - in Opera for BeOS. The BeOS team were very keen on threading.
We can do that now, but we find f you do things the Google way, you use a lot more memory. It's much more resource-heavy if each page is its own process.