Review Launching an affordable lightweight laptop that appeals both to lifestyle and business markets is a fine idea and one Lenovo clearly thinks has mileage in it. The new ThinkPad Edge is a stylish and affordable machine that is tasked with getting the ThinkPad brand into the world's coffee shops, as well as its board rooms.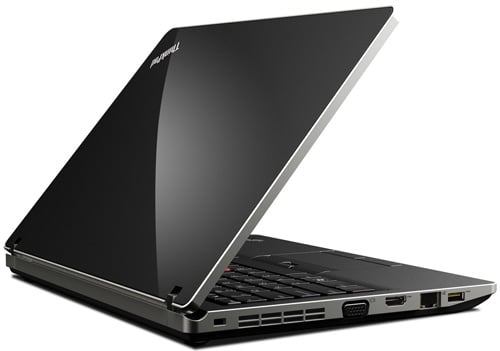 Best of both worlds? Lenovo's ThinkPad Edge
Previous ThinkPads tended to have both eyes fixed firmly on solidity and functionality rather than style and, while the Edge is still no beauty queen, it's a clean and sober piece of design with enough appeal to straddle both consumer and corporate camps.
Besides a choice of either matte or gloss lid finishes, for the first time with a ThinkPad you get a choice of colours. So, besides the usual Henry Ford black, you can also have your Edge in a rather fetching heatwave red or the rather less adventurous can opt for the greyish, midnight black. Looks are only slightly let down by the exterior lid design, which does rather remind us of the trays used in motorway service station cafeterias. Also, the wide plastic screen bezel on the inside which looks a little cheap.
In terms of build quality though we could find nothing to criticise, no matter how we twisted and pulled the Edge, we couldn't elicit so much as a single squeak or a groan even from the inherently flexible lid. We've no complaints about the main hinge either, which has a steady, smooth and firm action all the way round to its 185-odd degree maximum. Inside, the Edge's hard drive is protected by what Lenovo calls Active Protection – the HDD shuts down when it senses a shock.
At 322 x 228 x 25mm the Edge is one of the smaller laptops in its class and at 1.7kg with a 6-cell battery, its amongst the lightest too. Lugging it around for a week in place of our usual on-the-go Dell Mini 10v proved no hardship and, for a machine with a 13.3in screen, you really can't expect much less in the way of a physical footprint. Even though the design is not what we would call sleek, the battery pack is well integrated into the rear of the chassis with the inevitable bulge only protruding enough to cant the Edge forward by the required degree for comfortable desk use.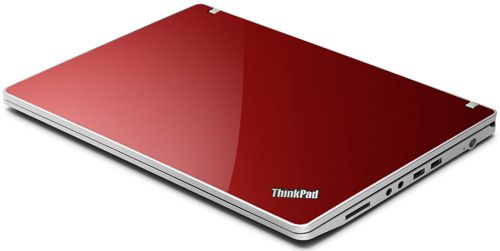 The lifestyle effect: coloured ThinkPads
The Edge's screen is a rather fine glossy back-lit LCD affair, with a resolution of 1366 x 768. It is both bright, colourful and crisp in equal measure. Embedded above it in the bezel is a 0.3MP low-light web cam which works extremely well. Around the edge of the Edge are three USB ports with the one on the left remaining powered, so you can charge gadgets when the machine is turned off.