Other interfacing includes an HDMI port, VGA socket, Gigabit Ethernet, a 5-in-1 memory card slot and a single 3.5mm hybrid audio plug for your headphones or headset. Wireless connectivity is covered by an 802.11 b/g/n Wi-Fi card and while our review machine didn't have the expected and advertised built-in Bluetooth module, we did find a SIM card slot lurking beneath the battery. Being an ultra-light you don't get an optical drive.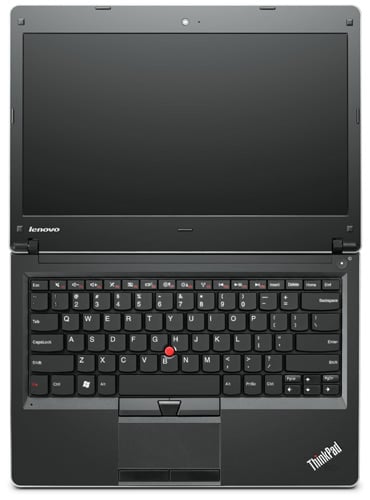 Robustly constructed, with a great keyboard
The Edge continues the noble ThinkPad tradition of packing an excellent keyboard, albeit in a new format. The new chicklet - or 'isolation' in Lenovo parlance - keyboard is a cracking piece of design and is as solid as the proverbial rock. Lenovo makes much of the new concave key shape – 'keycapped' in Lenovo-speak – and the redesigned signature TrackPoint, which now sits 0.4mm lower, in a concavity between the G, H and B keys.
For once the hype is matched by reality because the keys feel great to the touch, have a wonderfully positive action and are very well spaced, making typing on the Edge a genuine joy. If you want to get the full story on the new keyboard design there is an informative entry on Lenovo's company blog.
The multi-touch trackpad below the keyboard is both large and well calibrated and does all the scroll, rotate and pinch-to-zoom things you would expect, while the two click bars have a very positive action. Being a ThinkPad you actually get four mouse buttons, two above and two below, plus a third button between the upper two that does various weird and wonderful things in partnership with the TrackPoint, including magnifying areas of text.
The Edge is available with either Intel or AMD ULV chippery and our review machine coming fitted with a 1.6Ghz AMD Turion Neo X2 Dual-Core L625 chip and an ATI Radeon HD 3200 graphics card. System memory is a handy 4GB, but it's DDR2 not DDR3 and runs at 667Mhz. The 5,400rpm HDD has a useful 320GB capacity and the system is topped off by Windows 7 Professional 64-bit, which is a combination that should satisfy anyone who isn't either a graphic designer or an avid gamer.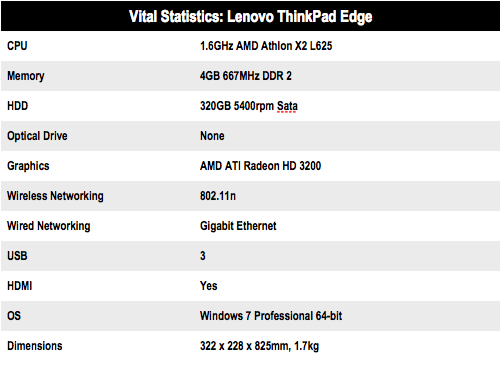 When subjected to the attentions of Futuremark's PCMark Vantage benchmark suite the Edge hardly distinguish itself, though things improved when we ran 3DMark06 for which the Edge returned a figure of 849. Of course, benchmark results are not the the whole story and despite the poor Vantage numbers, the Edge proved capable of performing most everyday tasks with more than sufficient vigour.