Race Telcom WiGoMo One
The mobile phone for overprotective parents
Review Tracking someone's location using GPS technology is often regarded as sneaky or underhand, but what if you're simply a paranoid protective parent craving the security of knowing your child's whereabouts – day or night?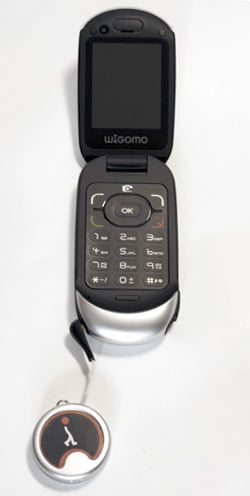 Intensive care: Race Telcom's WiGoMo One and GPS beacon
Manufacturer Race Telecom aims to allay that fear with WiGoMo – a child-friendly handset-cum-tracker that relays its coordinates over GPS to an online parental portal where guardians can monitor the phone's movements on an atlas akin to Google Maps.
The portal also gives parents remote access to the WiGoMo, allowing them to stop incoming and outgoing calls at specific times such as school hours, plus the option to switch off the phone's 2.2Mp rear-mounted camera.
To do all this, the WiGoMo comes with an external GPS beacon – roughly the size of a 10p coin and attaches to the phone with a mini coaxial connector. First, register the phone with the WiGoMo site to access the portal. From here you can define the location report frequency for every 15, 30, 60 or 180 minutes.
Having set WiGoMo to plot my location every 60 minutes, I slipped the 79g handset into my pocket and ambled around London for 24 hours to test the phone's location accuracy. It proved impressive. The portal revealed that I'd been in the King's Cross area at 3pm and in Soho come 9pm. I was also mapped in various other London boroughs throughout the day.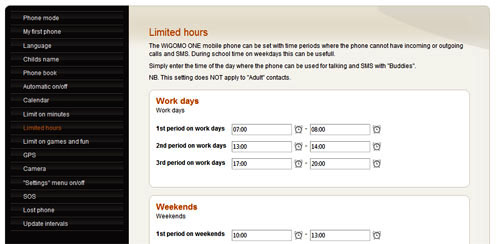 Portal protection
Plotted locations are fairly accurate too. Instead of being tagged as simply somewhere in the Soho area that evening, the WiGoMo said I was actually stood on the corner of Dean Street and Oxford Street at 9pm. Accuracy aside, tethering the WiGoMo to an external GPS beacon isn't ideal. The short wire that connects it to the handset is always exposed and in the pocket, the beacon's cable easily became tangled with keys.