Samsung HMX-U10
Compact HD camcorder
Review The success of Flip's pocket camcorders has seen a fair few manufacturers scrambling to grab a share of this potentially lucrative market. Many of us, it seems, quite like the idea of owning a product that lies somewhere between a cameraphone and a camcorder. Samsung's HMX-U10 is for the person who wants a highly portable camcorder with high definition video, plus a few extras – a fairly enticing combination.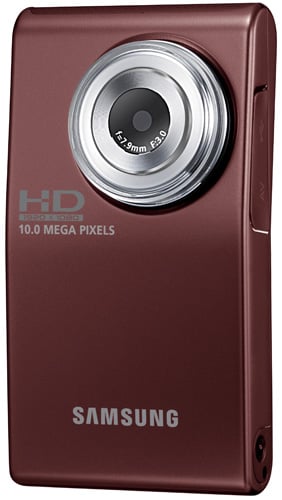 Samsung's me too Youtuber cam, the HMX-U10
First impressions are good: the HMX-U10 is compact, sleek, stylish, and from the back, could easily be mistaken for an upmarket MP3 player. It also sports a 7-degree bend in its body, which Samsung says makes it more ergonomically-friendly. In practice, it makes little difference to how the HMX-U10 handles, but it certainly ensures that this pocket camcorder stands out from the rest.
The camera features a 1/2.3-inch CMOS chip with a 10Mp resolution, plus a fixed focus f/3.0 lens. The HMX-U10 offers a wide, some might say, bewildering choice of shooting options. There are three HD shooting settings: 1920 x 1080/30p; 1280 x 720/60p and 1280 x 720/30p. You can also record in SD quality (720 x 480/60p), and in slow motion in QVGA resolution at 120fps.
Furthermore, you can select the level of compression, and there's a time-lapse facility too, with a maximum 30 seconds recording interval. The HMX-U10 also shoots still images and there are six photo resolutions on offer, from 10Mp to 2Mp. Incidentally, video is recorded in H.264 MPEG-4 AVC format and JPEG is used for still images.
Samsung has supplied the HMX-U10 with some useful features, including built-in Intelli-studio software (Windows only) which offers in-camera editing facilities and YouTube video uploading. You can also recharge the battery from the mains or USB. Battery life is given at 90 minutes for recording, but in use it's closer to 70 minutes.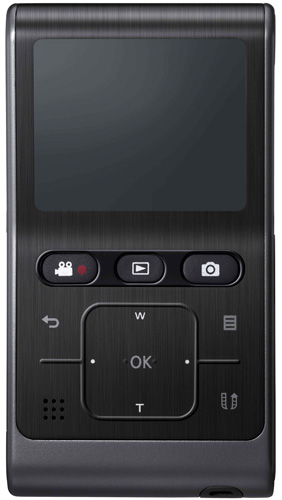 Sensitive controls make navigation a challenge at times
There are some notable omissions: no internal memory – it uses SD/SDHC cards – no image stabilisation system, no flip-out USB connector and no flash or video light. There's no HDMI output either. Instead, Samsung uses a proprietary AV interface and supplies a cable with component and composite video outputs only. These days HD video products really should include an HDMI port as standard.