Western Digital has started shipping consumer-focused solid-state drives (SSDs).
The SiliconEdge Blue family is a range of 2.5-inch form factor SSDs storing up to 256GB of data, and having a 3Gbit/s SATA interface. The read speed is up to 250MB/sec and the write speed up to 170MB/sec. WD says the products have "maximum tolerance for drops, shock and vibration along with silent and low-power operation."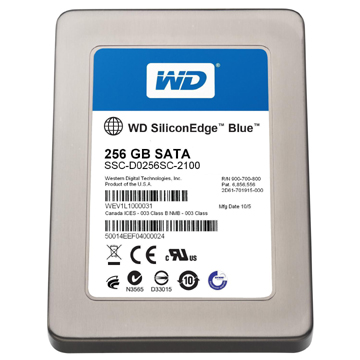 The operational lifespan is said to be unlimited for reads and 42.1GB/day for writes with the 256GB version, 21GB/day for the 128GB model, and 10.5GB/day for the 64GB product.
These are multi-level cell (MLC) SSDs - we don't know the number of bits yet, but it's probably either two or three - with wear-levelling algorithms, error correction control, and support for TRIM and Native Command Queuing (NCQ).
WD says they're designed for use both by OEMs, who may use them for "write-intensive, 24/7 ... applications", and consumers, such as technology enthusiasts, gamers and road warriors, looking more for read-intensive application use.
It seems clear that these new SSDs are developments of WD's existing SiliconDrive III product range which are sold into the communications, industrial, embedded computing, data centre, aerospace, military and OEM medical markets. Here we have a definite range expansion into the consumer market.
The obvious competing products seem to be the Intel X25-M SSDs, as well as products from Seagate, Micron, OCZ, Vertex, and others. Intel's X25-M is a similar 2.5-inch, 3Gbit/s SATA, MLC product (2 bits per cell) with either 80 or 160GB capacities. It is built on a 34nm process that is transitioning to a 25nm one, meaning Intel could increase capacity inside the same form factor. Apparently Intel also has 3-bit MLC technology using the 34nm process, so it has a couple of options for increasing X25-M capacity if it wishes.
Seagate's enterprise-oriented Pulsar SSDs are 2.5-inch form factor, 3Gbit/s SATA products built with single level cell (SLC) technology and available at 50, 100 and 200GB capacity points. They come with a 5-year warranty and can be assumed to be faster than the MLC SiliconEdge Blue products.
Micron's RealSSD C300 has a faster 6Gbit/s interface and blistering speed; reads being up to 355MB/sec and writes as fast as 215MB/sec. The net of this is that Intel's X25-M will be the main competition, together with OCZ and other suppliers' consumer products.
WD's SiliconEdge Blue SSDs have manufacturer's suggested retail pricing (MSRP) of $279 for a 64GB model, $529 for a 128GB version and $999 for the 256GB product. All three models have a 3-year limited warranty. ®
Similar topics