Asus has introduced its latest HDD-to-HD TV adaptor, this time adding SuperSpeed USB 3.0 to the media playback gadget.
The O!Play HD2 is set to deliver a wealth of media formats, all of which it will display on an HD TV through its HDMI port at resolutions running up to 1080p.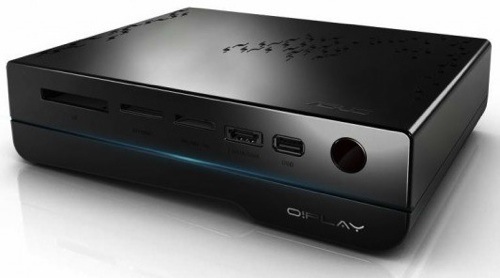 Asus' O!Play HD2: the media player with USB 3.0
Content comes from networked sources - there's an Ethernet port on board, and possibly 802.11n too - or from hard drives and Flash keys connected to its USB 3.0 ports.
USB 3.0 is inherently able to support USB 2.0 links, so all your existing hard drives will work with the O!Play too.
The one snap that's come out of Asus shows that the player also sports an eSata connector and memory card slots.
There's no word yet on UK availability or pricing, but the current wired-only model, the O!Play HDP-R1, retails for around £90. The wireless model, the HDP-R3 Air, costs around £140. We expect the HD2 to come in above that. ®