An American outfit has started selling RFID tags for embedding in headstones, making life easier for the next generation of the Time Team.
A 'Personal RosettaStone', utilising technology from Objecs as reported by NFC World, will set you back something between a tenner and two hundred quid depending on how long you want people to be able to read your details, and comes with useful icons* in case humanity has moved beyond the use of radio frequencies by then.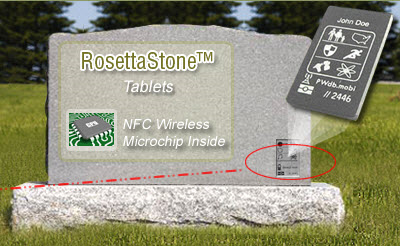 The tags come in adhesive form good for 300 years, or embedded in granite for that 3,000-years-plus longevity. Assuming, of course, that the NFC standard lasts that long.
As specified by the NFC-Forum's standard, the tags can use induced current to respond with a URL where the owner, or the owner's heirs, have uploaded personal information about the deceased. So long as the company's servers are still up and running, anyway.
That seems like a lot of what-ifs to us. We'd not lay even money that the NFC-Forum's standard will be around in a decade, let alone 3,200 years, and it seems a leap of faith to imagine that the company will still be in business three millennia hence.
So perhaps the Personal RosettaStone is better viewed as something to fox a future Tony Robinson. Strange symbols on the outside and a mysterious radio response at 13.56MHz, should confuse him for a while.
*Including ones to identify the corpse as a "career criminal" or professional boxer, among others (pdf).