FT shock discovery: EU Google probe has MS link
Google 'Borg persecuting us' campaign gathers pace
---
Top sleuths from the Financial Times have uncovered the shock information that Foundem, the minnow that filed a complaint against Google with the European Commission two weeks ago, is in league with Microsoft-funded Brussels lobbying outfit ICOMP, and known Microsoft lobbyist Burson-Marsteller. Heavens! They must have had to read most of the way down the page to unearth that bombshell.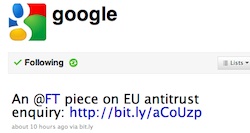 Google loves FT true
According to the pink 'un, this puts Microsoft in the spotlight over the Commission's investigation. "The Microsoft connection has become the focus of intense interest in Brussels," it tells us, quoting anti-Borg Brussels lobbyist ECIS as saying some in the Commission will be sceptical of complaints "that look like they are fomented by Microsoft," and part of an attempt by the company to deflect attention from itself.
As Google has been trying to deflect attention from its antitrust issues by claiming Microsoft is pulling the strings, there's a certain irony to that one.
For the record, ICOMP was set up by Microsoft and Burson-Marsteller in 2007 in order to lobby for Google's takeover of DoubleClick to be blocked. It now lobbies for transparency, competition and a level playing field, and yes, Google is a major concern. In a blog post this week, ICOMP legal counsel David Wood accuses Google of making "seriously misleading statements" about ICOMP, and of "Shooting the messenger to avoid having to deal with unpalatable messages".
Also for the record, Register sources tell us that prior to the formal announcement of Foundem's complaint against Google, the Commission had expressly told the parties involved that it did not want the news leaking out. Nevertheless it did, to the Telegraph and the Wall Street Journal.
Note the wording: "Telegraph.co.uk can reveal that the Commission has written to Google with a series of questions over how its search functions operate and also questioned the way it sells advertising." Which does kind of make it sound like the leak came from the Commission or, er, Google.
But the Commission takes a pretty dim view of leakers, so we presume a company with so many smart people on board wouldn't go doing something like that. ®