This article is more than 1 year old
'Negatively strange' antihypermatter made out of gold
Atomsmash boffins' reverse alchemy bizarro-stuff triumph
Topflight international reverse-alchemy boffins say they have managed to transmute gold into an entirely new form of "negatively strange" antihypernucleic antimatter, ultra-bizarre stuff which cannot possibly occur naturally - except perhaps inside the cores of collapsed stars.
The transmutation was carried out at the Relativistic Heavy Ion Collider (RHIC), a powerful* atom-smasher located at America's Brookhaven National Laboratory. Blasting a pair of high-energy gold nuclei into each other as is their wont, RHIC boffins found they had created something very odd indeed.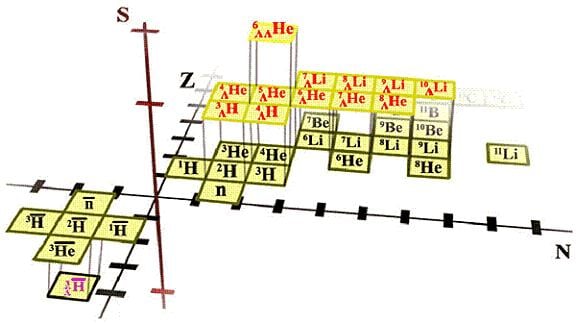 Sometimes there is more strangeness than none at all. Or less.
Essentially, according to their explanation, you've got your regular old Periodic Table of elements, which no doubt we all recall at least dimly from skool, which is based on the number of protons (Z) in an atom's nucleus. Then different isotopes of each element have differing numbers of neutrons (N), as in the case of hydrogen, deuterium and tritium (a proton and no, one or two neutrons).
Regular old boring antimatter, having antiprotons and antineutrons, simply has minus values of Z and N. Easy peasy.
But more advanced boffinry also calls for a third axis showing the number of "strange" quarks present - normal protons and neutrons contain only "up" and "down" quarks. An isotope containing one or more "strange" quarks is a hypernucleus, lying above the regular chart of stuff and anti-stuff on the Strangeness (S) axis.
All previous matter and antimatter seen had been normal or positively-strange hypernucleic sorts. But international boffins analysing the RHIC gold-buster results have now discovered a an anti-deuterium nucleus containing an antiproton, an antineutron - and, gobsmackingly - an "anti-strange" quark. It is thus a "negatively strange"** anti-hypernucleus lying below the plane of ordinary matter and antimatter, the first stuff ever known to do so.
"This experimental discovery may have unprecedented consequences for our view of the world," comments Horst Stoecker, German boffinry chief. "This antimatter pushes open the door to new dimensions in the nuclear chart — an idea that just a few years ago, would have been viewed as impossible."
Jinhui Chen, lead scientist probing the strangely-strange antimatter, believes that this confirmation that such bizarro-stuff can exist may help to explain what happens in such extreme cosmic environments as the heart of a collapsar.
"The strangeness value could be non-zero" [in such places] says Chen, a statement with which no doubt most would agree.
The nega-strange anti-deuterium was produced, according to a Brookhaven statement, probably not so much from the actual gold banging together at lightspeed but rather "from the quantum vacuum via the conversion of energy into mass in accordance with Einsteins famous equation E = mc2". It was detected by the Solenoidal Tracker At RHIC (STAR) detector complex.
Chen and his colleagues' research is published this week by Science Express, here. ®
Bootnote
*Though not, of course, to compare with the big daddy of the particle-punishment world, the Large Hadron Collider outside Geneva. However the RHIC has been around a lot longer and its teething troubles are well behind it, meaning that it is at the moment rather more useful.
**We would suggest a special name for the quality of negative strangeness. Perhaps "ultramundanity" or "hyper-boringness".