Canon EOS 7D
Slick shooter with HD video done right
There is a new Quick menu button, which does as it says, offering a shortcut to get to the parameters you need to adjust swiftly. One interesting inclusion is a button that switches you into RAW shooting for one frame if you are in JPEG Only or to RAW+Jpeg if you are in RAW already. It's a brilliant idea and helps avoid forgetting to switch and ending up filling your card in RAW. See a great shot? Well now you can make sure you get it in 14-bit too. Nice. The 7D also features three Custom positions on the dial up top (C1-3) for quickly setting the camera to a group of settings you use frequently.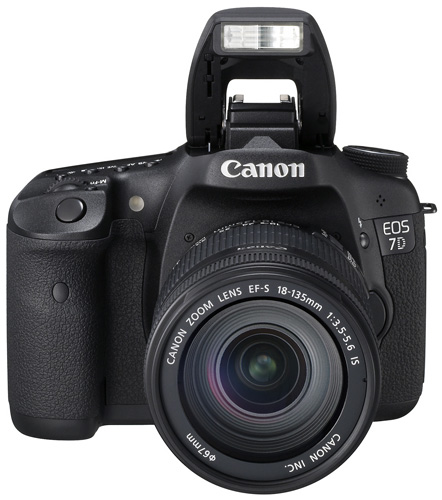 User feedback is evident in the 7D's feature set
Getting into recording video is now much easier, instead of wading through menus and assigning conditions to be necessary for the Live View. Now there is a Live View/Movie mode switch and start button. It still has the 4GB limit of using the FAT file system. So recordings in HD will tend to end about the 12-minute mark, with only the 480p taking you anywhere near the 29min limit on devices like this.
So is the EOS 7D an important camera for Canon or just a stopgap before something very game-changing appears with better audio in the shape of a 5D Mark III? That is likely to be a little way off and the 7D is definitely a crowd pleaser. Evidently, Canon listened to its users and listened good. Indeed, the features on the stills side would be enough to compensate for the APS sensor size.
Verdict
As a smaller sibling to the 5D Mark II, it was the video capabilities that created the buzz around the EOS 7D. It was the only alternative for sensible frame rates, whilst still being able to take advantage of the huge selection of fast EF lenses and giving that pleasing, filmic depth of field look. With the time between releases getting shorter, this camera now shares the limelight with a cheaper, plastic-bodied cousin, the EOS 550D. While the EOS 7D was very much vital yesterday, it now seems less of the exciting video tool it once was, yet it delivers nonetheless. ®
James Cumpsty is a professional photographer and videographer working in the music industry.
More DSLR Reviews...

Sony
Alpha A550

Pentax
K-7

Nikon
D300s

Canon
EOS 5D Mark II

Canon EOS 7D
A fabulous 18Mp APS-C stills camera, with professional features and has the video frame rates users will hope to see appearing on all DSLRs.
Price:
£1700 with 18mm - 135mm lens kit RRP