The BBC has justified 1Xtra's survival in the Corporation's recent biz strategy cull by claiming that the station's "unique" audience, which is made up of fewer listeners than death row candidate 6Music, is worthy of more investment.
In effect, the Beeb is keeping 1Xtra - which is its "new black music network" - alive despite it only attracting 550,000 listeners in the final quarter of last year, compared to 6Music's UK audience reach of 700,000.
In the BBC's 2008/09 financial year, the corporation plowed £9.6m into 1Xtra, making its output more expensive per head than 6Music, which the BBC spent £9m on in the same 12-month period.
At the same time, 6Music actually saw its audience reach jump conservatively ahead of 1Xtra last year.
The Register asked the BBC why, given the figures outlined, 1Xtra wasn't also up for the axe at the corporation.
"1Xtra reaches a young audience that the BBC traditionally finds it hard to reach on any platform. Specifically, 1Xtra's 'unique' audience - people who don't listen to any other BBC radio output - is almost twice that of 6Music," it told us.
The average age of a 1Xtra listener is 24, compared to 37 for 6Music. While the majority (58 per cent) of the station's audience is 15-24 compared to a measly 15 per cent of youngsters plugging their lugholes into 6Music, a BBC radio flack explained to El Reg.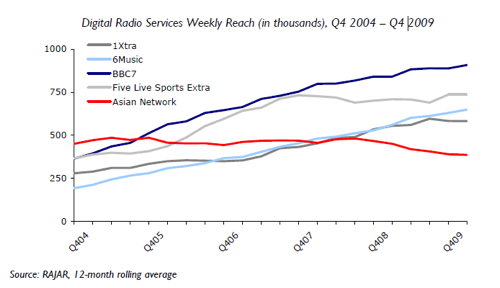 1Xtra flatlines, while 6Music marks conservative rise in listeners
According to the Beeb's strategy review, which was published a week ago and is currently being mulled by the BBC Trust, editorial links between Radio 1 and 1Xtra will be "strengthened" over the next 18 months.
We asked the BBC if this meant that 1Xtra might be folded into Radio 1 rather than remaining out on a limb as a separate digital station.
"The network… benefits from being directly linked to Radio 1, meaning it can be supported and marketed more effectively than a stand-alone network like 6Music. 1Xtra will be developing even closer links to Radio 1 but will remain a separate network," it said.
Meanwhile, the Asian Network - which is also up for the chop at the BBC - saw its audience reach decline more than 14 per cent in the past year to 350,000 listeners, while at the same time costing the licence payer £12.1m in total overheads for the 2008/09 fiscal period. So perhaps the BBC has a better case to present to its governing body about why that station should be closed.
But it's a different story entirely when 6Music's RAJAR stats are compared with 1Xtra's audience performance. All of which leaves us wondering why the BBC is so obsessed with reaching out to its "unique" audience of few-and-far-between youngsters, who just so happen to slot into that lucrative 16-to-35-year-olds' bracket that preoccupies the minds of ad execs across the land.
Similarly, the corporation's TV channel BBC3, which is aimed at the same age group, has also avoided director-general Mark Thompson's axe.
Surely the BBC isn't trying to satisfy commercial interests, is it? ®