This article is more than 1 year old
Panasonic DMC-G2
Micro Four Thirds hands-on with test pics and video
First Look With a DSLR dangling from my neck, unpacking the new Panasonic Lumix DMC-G2 was certainly quite a contrast. The diminutive lens is remarkably light and, even when married to the body, you certainly don't feel like you're being burdened by bulk.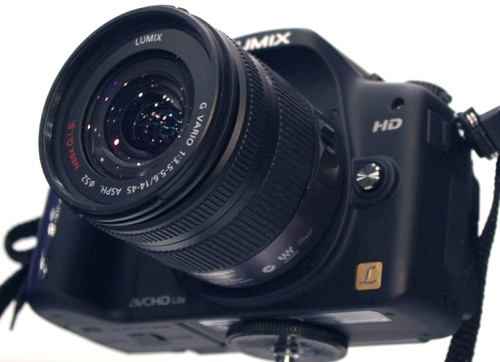 Finishing touch: Panasonic's Lumix DMC-G2
A DSLR it ain't and it's easy to see that there is probably some truth in Panasonic's claims that Micro Four Thirds cameras are fast becoming a favourite among compact owners wanting to trade up to the flexibility of interchangeable lenses, and advanced users needing something small, but versatile.
With the DMC-G2 and DMC-G10 officially announced only moments earlier, as the Focus on Imaging show opened, press samples were dished out with just an hour allowed to play. Panasonic was keen to stress that the G2 test models were running version 0.20 firmware. The underlying message being, it's work in progress, so be kind, but have fun. There will be many refinements between now and the release models in June.
Indeed, it was pertinent to keep that in mind on turning on the G2 and seeing a purple wall through its viewfinder where a grey one stood before me, but on moving around things steadily improved. According to a Panasonic product specialist, the samples are still running on algorithms based on the G1, but the G2 and G10 both feature the new dual processing Venus Engine HD II.
So what about this new processor? Could a warts 'n' all pre-production model show off the charms of Madame Venus' twin engines? Judge for yourself, as the urge to perform an impromptu ISO test was too great to resist. Like its predecessors the G2 has a 100 to 6400 ISO range and a 12.1Mp sensor.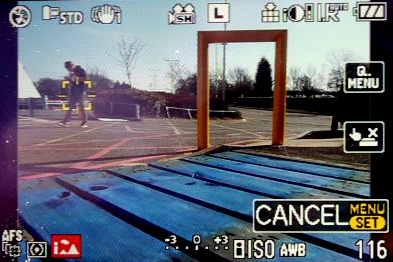 AF tracking screen view
However, it soon becomes obvious that the higher you climb, the view starts to get uglier. Compression artefacts abound in the details too – even in the lower ranges – which suggests that Madame Venus is a bit of a harsh working girl at the moment and will be in for a makeover before she hits the streets in June.