The financial industry's lack of understanding is what's preventing us from using our phones to pay for things, so the Mobey Forum is going to educate it.
In a new white paper from the 'Forum (pdf), the industry body explains the various technologies available as well as the business relationships which are necessary to make proximity payments happen, all presented on the basis that users are just dying to pay for everything with a wave of the mobile telephone.
"It has been proven that the technology works and [that] consumers love it" according to the white paper. But it's purpose isn't to sell the concept of proximity payments, but to explain how companies might go about setting up such a scheme and what partners they might need to do so.
In that regard, the document works well enough and should provide a useful reference, though it completely ignores the RF SIM technology being deployed in China. That's important as it allows a network operator to deploy a system that will work on any GSM handset, without having to work with handset manufacturers or rely on any other standards being implemented.
The document also seems curiously optimistic about the capabilities of "active stickers." RFID stickers have been used for payment systems for years, often stuck to the back of a mobile phone but not by necessity. The payment system embedded in the sticker operates entirely independently of the phone, and there's no connection between the two except a layer of glue.
But the Mobey Forum reckons that an "active sticker" could interact with a phone application over a Bluetooth connection, enabling anyone to upgrade an existing handset for proximity payments just by slapping a sticker on the outside and some software inside.
A keyfob based on that idea was demonstrated last year, but it's hardly a "sticker." That product also no longer appears on the company's web site, despite being demonstrated last year.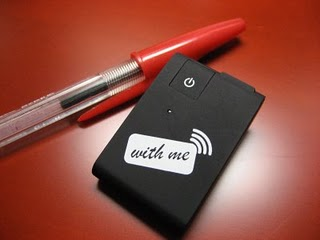 The "With Me" from Cell Idea: It's not a sticker, and it's not in production.
But bearing in mind those limitations, the white paper is still a useful guide to how a proximity-payment system might be structured, and it's worth reading - if you believe punters really are crying out for mobile-phone payment systems. ®
Similar topics