This article is more than 1 year old
Google Nexus One
Hard to resist
Review The flourishing Android operating system has appeared on phones made by Motorola, Sony Ericsson, Samsung, LG and HTC. Now Google has launched its own handset, though it's actually made by HTC, which has made the bulk of Android handsets so far.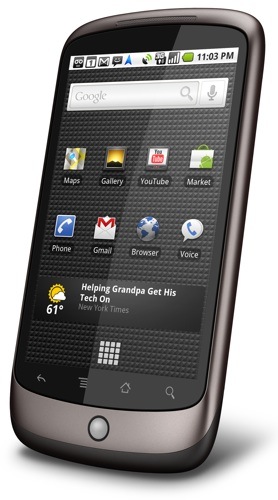 Nexus One: hardware by HTC, software by Google
The thing about Android is that manufacturers can change the OS to taste. This has been a great bonus for Motorola, a company known for stylish, appealing phones but which has always had a dog of an operating system. Motorola has been able to tweak Android effectively to add social media smarts.
So what would Google do? The Nexus One is a cute piece of kit. Its vivid, colourful OLED display is fractionally narrower but noticeably longer than that of the iPhone, clocking in at 3.7in compared to the iPhone's 3.5in.
In fact, it feels even more spacious than that, as at the bottom there's a further touch-sensitive area where icons represent the Back, Menu, Home and Search functions. But the real stand-out feature of the screen is not the size or brightness, it's the resolution. At 480 x 800 pixels, it's strikingly pin-sharp – the iPhone only manages 320 x 480.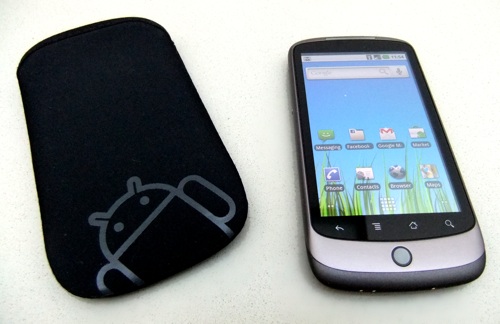 The handset comes with a natty slipcase
The curved edges and sleek, slim profile make the Nexus One feel good in the hand, especially because of the metallic frame and rubber-paint back. It's light but solid, and the phone's look is completed with a white trackball, front and centre under the display. It's another way to navigate the touchscreen and it pulsates with light when you receive a notification. Beyond that, there's a volume rocker on the left edge and a power button on top.