PayPal has finally made good on its pledge to restore Cryptome's account many hours after the firm's head of global communications told Register readers it had already done so.
PayPal told operator John Young the account had been suspended because of its stated policy:
Cryptome welcomes documents for publication that are prohibited by governments worldwide, in particular material on freedom of expression, privacy, cryptology, dual-use technologies, national security, intelligence, and secret governance -- open, secret and classified documents -- but not limited to those. Documents are removed from this site only by order served directly by a US court having jurisdiction. No court order has ever been served; any order served will be published here -- or elsewhere if gagged by order. Bluffs will be published if comical but otherwise ignored.
Cryptome predates Wikileaks by a decade. PayPal told Young the restrictions would continue, with Cryptome unable to withdraw funds or close the account.
Earlier PayPal's head of global communications had implied in an email to El Reg that Cryptome breached its policy that an account not be used "to encourage, promote, facilitate or instruct" others to engage in illegal activity. The email also stated the account had been restored. It hadn't.
Eventually, some nine hours after contacting Cryptome, PayPal did restore the account, "after review".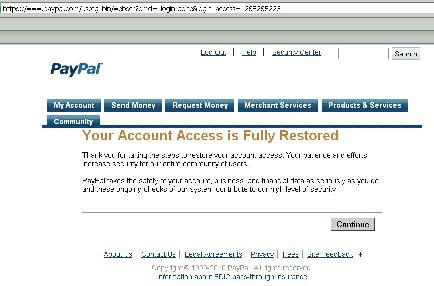 "Likely another PayPal ploy, hoping the FU will just go away, without apology, without admission of stupidity, declaring everything was done as it should have been, according to the arrogant rules of Microsoft, et al," wrote Young.
There's more on the Cryptome site, including correspondence. ®