This article is more than 1 year old
Doctor Who to materialise on Wii this Autumn
Geronimo!
The BBC's first Doctor Who game in years will be released in October and will be released for Nintendo's Wii, moles have claimed.
The title is said to feature new Doctor Matt Smith who will be placed against the Daleks and the Silurians - both due to make return appearances in the new series, which kicks off next month.
The Daleks turned up in the last full series of the show, in 2008. The Silurians haven't been since 1984's Warriors of the Deep. Before that they made their debut in 1970's Doctor Who and the Silurians.
The Cybermen may also feature in the game, the Sun reports.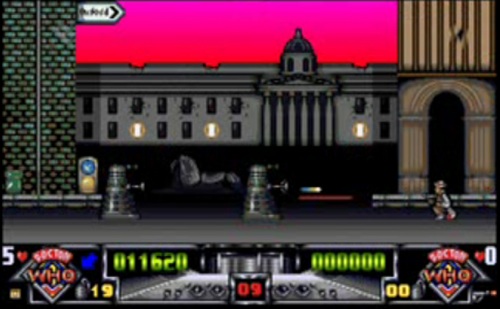 Doctor Who gaming circa 1992: Dalek Attack
Trade title MCV said it has confirmed the title's October release and appearance on the Wii.
News that the BBC was gearing up to exploit in software the huge popularity of its Doctor Who revival broke in January.
The last Doctor Who title the Corporation released was 1997's lame Destiny of the Doctors. Our favourite remains the 1992 PC release of Dalek Attack, a rather good platform game, complete with Daleks, Ogrons, Unit troops, K9 and laser-firing Sonic Screwdrivers.
Fans can get a complete rundown of the Doctor's appearance in computer games at The Millennium Effect, here. ®