Shuttleworth heir opens up on Ubuntu biz
Canonical kingdom spans 10 million machines
---
When you have Mark Shuttleworth as your backer, as commercial Linux distributor Canonical does, it is a bit like having money in the bank when the bank also believes fervently in your cause. It is a rare combination, and one that has allowed the Ubuntu project to reach out from its Linux desktop beginnings into commercial servers - and with the latest releases, cloudy infrastructure - without having the profit pressure that most startups have to deal with as they try to grow.
While Shuttleworth may be the Self Appointed Benevolent Dictator For Life at the Ubuntu project, that does not mean that he is the best person to lead Canonical, the commercial entity behind Ubuntu, or even that Shuttleworth, having created digital certificate and security software vendor Thawte during the dot-com boom and selling it off to Verisign before the bust for $575m, wants to steer Canonical. He clearly doesn't, since Jane Silber, the long-time chief operating officer at Canonical, was tapped last December to replace Shuttleworth as CEO.
Silber started her new job running the company on March 1. With the transition, an important and influential British software company founded by a South African is now being run by an American ex-pat. One who has been a software developer and senior manager and who was vice president of command and control systems at the C4 Systems subsidiary of General Dynamics.
With the appointment, Shuttleworth heads up the Ubuntu development project and gets to tinker with all the technical stuff and interface with the open source community, and Silber gets to do all the paperwork and worry about making money off the stuff the Ubuntu project cooks up. In February, Matt Asay was brought in from open source content management software provider Alfresco to replace Silber as COO, so I guess we all know who is going to get a lot of the paperwork.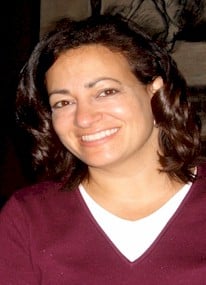 Jane Silber, Canonical's new CEO
Being privately held, Canonical is pretty secretive about the size of its business. Shuttleworth said when Silber was appointed last December that the company was not yet profitable but heading in the right direction with growth in its three key product lines. (He added that he expected to spend seven years building an open source platform and that the company still has nearly two more years to make it under the wire). But judging by its employee headcount, Canonical is growing like crazy.
In an interview with El Reg, Silber said that the current workforce at Canonical was about 320 people and added that the company was growing rapidly and would continue to do so. She said that Canonical added about 100 employees in both 2008 and 2009.
"We're pretty sizable now, and we have stuck to our original tradition of hiring the best people, no matter where they are in the world," Silber explained. "
Over the last couple of years, the mix of people has changed. We have more people in roles that probably aren't visible through the open source community. We have more sales people and more technical people working in the factories of major OEMs in Asia. We have an office in Taipei that we opened last year and one in Shanghai that we opened this year, for example, and we have a much larger presence there. A lot of our growth is there, and it is driven by the business coming out of our OEM Services group."
The Canonical business is like a three-legged stool. The OEM Services group is the largest part of Canonical, according to Silber, and it works with OEMs and other hardware suppliers to get the Ubuntu variant of Debian Linux installed on machines of all shapes and sizes (netbooks, desktops, servers). The Corporate Services group works primarily with companies - but also with governments and educational institutions - to sell them tools and services that help them better deploy Ubuntu in their organizations.
So money garnered through the Landscape online Ubuntu patching and management service plus tech support and training relating to the Ubuntu Desktop and Ubuntu Server distros comes from this group. The final group - and the newest unit and one that Silber established - is the Online Services group, which distributes some free as well as fee-based consumer-facing services. These include the Ubuntu One storage utility, which debuted last fall with Ubuntu 9.10 and which will be soon expanded with Ubuntu 10.04 to include the Ubuntu One Music Store, the Canonical equivalent to iTunes done in partnership with London-based online music distributor 7digital.
Silber would not elaborate on the relative sizes of these groups or on how much money each generates. She did say that the OEM Services group was the largest, and presumably, the Online Services group is the smallest, being the newest.
It is hard to guess how much revenue Canonical might be generating, since OEM deals are a big part of what it does and this could be more like consulting than selling support contracts as Red Hat and Novell do with their respective Enterprise Linux and SUSE Linux distros. But assuming there is some similarity, we take get a rough idea of how big Canonical might be and how fast it is growing. Depending on the year, Novell and Red Hat are generating around $235,000 to $240,000 per employee, and given that ratio, that should have put Canonical at somewhere around $30m in sales in calendar 2007, up above $52m in 2008 and kissing up against $80m in 2009.
With the economy coming out of recession and the appetite for new devices growing and Canonical's pushing into larger deals, the company will most likely resume the kind of growth it had between 2007 and 2008 in 2010. Of course, this is all speculation, as is the supposition that Silber moved up to CEO and Asay was brought in as COO to keep Canonical growing and presumably to push it to profitability so the company could go public. Canonical does not need to go public to get backers to fuel its growth, and it is hard to imagine Shuttleworth giving up the company to investors before it has reached a higher value than it would have even a year or two from now.