The $20K iPad
Diamonds are a fanboi's best friend
---
If you're an Apple fanboi with $19,999 burning a hole in your pocket, why not spend it on The World's First Diamond iPad?
Doing so would greatly please John Mervis, Digital Strategist for Mervis Diamond Importers, a third-generation family business in the Washington DC area. As Mervis told The Reg: "We've always been trying to get into the celebrity market, so we wanted to create something that's really spectacular and unique" - such as an iPad encrusted with 11.43 carats of South African diamonds.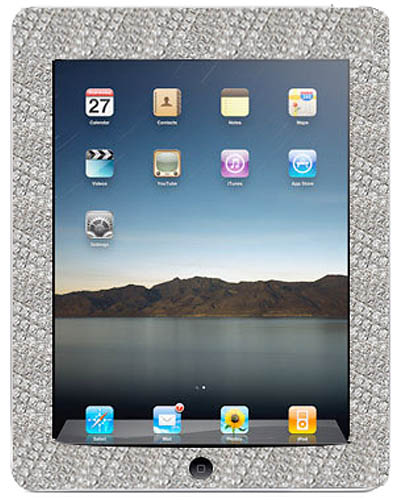 It's a safe bet that Steve Jobs won't be gifting Eric Schmidt with one of these come the holidays
The opulently decadent device was inspired, Mervis told us, by the diamond-encrusted HP iPod that Sean "P.Diddy" Combs famously flashed at the MTV Video Music awards back in 2004. A diamond-encrusted iPad is the logical next step: "It's just a matter of time before someone creates it, so I wanted to be the first to do it," Mervis told us.
For the gemstone-literate among you, the diamonds are graded G/H in color and VS2/SI1 in clarity, and are hand-set in what Mervis Diamond Importers describes as "micro-pave styling".
The $20K iPad doesn't yet exist, of course - Apple's more-plebeian offering isn't slated for release until April 3. But, as Mervis explained, "If anyone buys it, we'll make it".
Which is an upmarket twist on the famous dictum whispered to Kevin Costner in 1989's Field of Dreams: If you come - or call Mervis at 703-287-1615 - they will build it. ®