Review The YoYoTech Warbird i750CX is a juiced-up version of the Warbird i750X. Both models are bare towers that come without a display, mouse, keyboard, speakers or operating system, although our review unit was supplied with Windows 7 Home Premium 64-bit already installed to save us the effort. Everything else is included.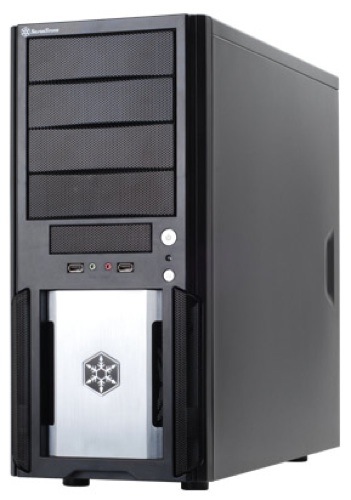 YoYoTech's Warbird i750CX: it's what's inside that counts...
The i750X has an AMD ATI Radeon 5850 graphics card and a price of £800, while the i750CX combines a pair of Radeon HD 5850 cards in CrossFire mode. The power supply has been beefed up to 850W to ensure there's plenty of juice to keep things humming along.
Dual HD 5850s have the potential to offer epic levels of DirectX 11 gaming power, provided your CPU is up to the task. This is where YoYoTech has taken a bold step by overclocking the i750CX's Intel Core i5-750 processor from 2.67GHz to 4.0GHz. In our experience, you can overclock a 'Lynnfield' Core i5/i7 or 'Penryn' Core i7 900 to 3.8GHz with the minimum of effort and 4.0GHz shouldn't be any harder.
Naturally, we wanted to see how YoYoTech had managed the overclock the CPU, so we had a look in the Bios settings of the i750CX's Asus P7P55D-LE motherboard and found the answer was very simple: the core voltage has been raised to 1.45V, while the base clock speed is set at 200MHz - 20 x 200MHz = 4.0GHz. SpeedStep has been disabled and an Asus setting, Xtreme Phase Full Power Mode, has been enabled.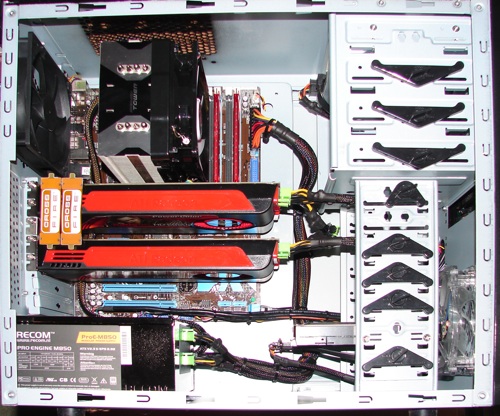 ...so here are the beast's innards
The 4GB of G.Skill DDR 3 memory has been clocked at its rated speed of 1600MHz but still runs at the default setting of 1.5V. As far as we can see, that's the extent of the changes.
Similar topics