This article is more than 1 year old
US Marine robot supply skyhook compo: Enter the A160T
Lid remains firmly on whup-ass can, however
Mighty aerospace mammoth Boeing has made a late entry in the contest to supply the US Marines with robot helicopter supply skyhooks, able to move stuff in and out of isolated forward bases in Afghanistan without input from human operators.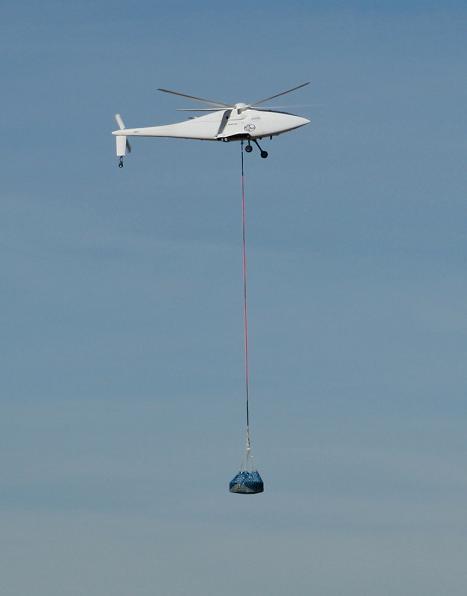 Don't worry lads, we've got the incredibly heavy disc right here
At first sight, it would seem that Boeing's innovative A160T robocopter has been beaten by its rival, the unmanned K-MAX intermesh whirlybird from Lockheed and Kaman Aerospace.
Boeing says that the A160T was able to move only 2,500lb of cargo (between bases 75 nautical miles apart) in its allotted two round trips across a proving ground in Utah. The K-MAX, during its test runs last month, managed 3,000lb.
Boeing are keen to point out, however, that their machine was able to hover with an underslung load of 1,250lb at 12,000 feet - presumably out of ground effect - which is impressive, and would be useful in the high altitudes of central Afghanistan.
Overall, though, the extra lifting ability of the K-MAX would seem to mean a win for Boeing's rivals. The K-MAX has other advantages, too - it has a nifty four-hook carousel, allowing the copter to drop off more than one load at preprogrammed locations before returning to home base. Furthermore, as a conversion from a manned design, it could presumably operate with a pilot aboard on occasion - useful for legal reasons in civil-controlled airspace.
The US Marines are keen to move forward with the idea of unmanned resupply, which would be a boon in Afghanistan. There's often a need to rush supplies - particularly ammo and batteries - into forward bases even while they're under heavy enemy fire, putting aircrews at severe risk and often necessitating heavy bombardment of the surrounding area to keep the Taliban's heads down and chopper crews safe.
Then, the aircrew themselves and their need for armour and so on use up significant amounts of a chopper's lifting capacity - and the requirement for in-theatre training and familiarisation with such things as night dust landings etc uses up lots of expensive flying hours.
Surface convoys are equally nightmarish and expensive in Afghanistan, with terrible roads, landmines, roadside bombs and ambushes all taking their toll and meaning a need for powerful escort forces and recovery vehicles to tow broken-down or shot-up ones out of trouble.
So the idea of unmanned, preprogrammed supply skyhooks is an attractive one. That said, the Marines' original "IMMEDIATE CARGO UNMANNED AERIAL SYSTEM" spec called for choppers able to shift a full 5,000lb across two 75-nm-out-and-back lifts - and neither team has achieved that. It may be that neither will be judged successful.
If one is, however, the Marines have indicated that they intend to have it in the air above Afghanistan by the end of the year. ®