This article is more than 1 year old
Navy, NASA 'committed' to restoring Silicon Valley Colossus
Hangar One to survive - if funding appears
The long-running campaign to restore Silicon Valley's beloved 1930s mega-relic, Hangar One, has passed another milestone: the US Navy and the National Aeronautics and Space Administration (NASA) have jointly "committed" to reskinning the toxically troublesome edifice.
This milestone, however, comes with a weighty millstone attached: a $15m to $40m price tag with no funding source in sight.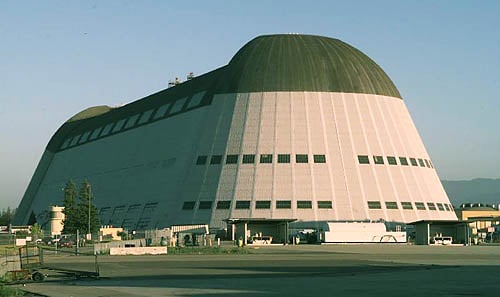 Hanger One is said to be so large that rain can fall from clouds that form inside it
That said, the Navy/NASA committment is some of the first good news for those who want the landmark reskinned after its toxic siding is removed, beginning this December.
But seeing as how Hangar One is 1,133 feet long, 308 feet wide and 198 feet tall, reskinning will require a vast amount of what the ad hoc Save Hangar One Committee suggests as its preferred solution: "a durable, attractive teflon-covered fiberglass fabric."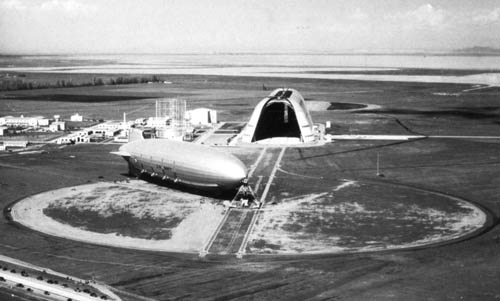 The USS Macon prepares to enter Hangar One in 1934
That fabric will replace the current siding, which was discovered to be leaking toxins into the nearby San Francisco Bay after every rainfall. That leakage threatened to doom the massive structure, which the Navy decided in May 2006 to demolish completely.
The outcry against that decision was swift and strong. In an area with few - if any - notable historic edifices, Hangar One was and is a cherished reminder of earlier times. Lenny Siegel of the Save Hangar One Committee has compared Hangar One to the Colossus of Rhodes and the Lighthouse of Alexandria. "Nothing like this will ever be built again. If you tear it down, it's lost forever," he told The Reg in 2008.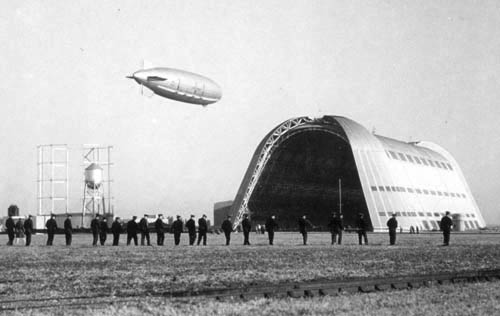 Handlers prepare for the landing of the USS Macon outside Hangar One
Hangar One became operational in 1933, in time to house its primary tenant, the 6,500,000 cubic foot, 785-foot-long dirigible, the USS Macon. Unfortunately, its opening came too late for the USS Macon's sister ship, the USS Akron, which crashed into the sea in April 1933. The USS Macon met a similar fate in February 1935.
Since then, Hangar One has been without a dirigible to call its own, although it has been used as an aircraft hangar and was even considered at one point as a site for a space museum.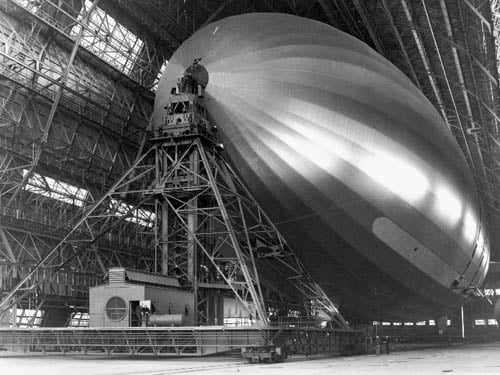 The USS Macon inside Hangar One
Now, however, no primary tenant has emerged as a fiscal savior for the structure. And at a time when philanthropic wallets are closed tight, raising the required $15m to $40m in construction funds - in fundraising-speak, a capital campaign - will be a tall order.
As San Francisco Bay Area fundraising consultant Marilyn Bancel - and this reporter's spouse - told The Reg, "Capital campaigns in the Bay Area are still going forward, but new campaigns have largely been put on hold, scaled back, or otherwise modified until the economy is perceived to have picked up again."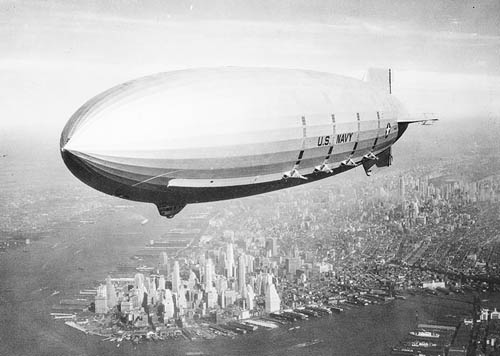 The USS Macon over New York City in 1933
Not that San Franciscans are a cheap lot. The city's $200m de Young Museum, for example, opened in October 2005 and was privately funded after a public bond measure failed in June 1998. The California Academy of Sciences, which opened in September 2008 and which shares the city's Golden Gate Park with the de Young, cost around $500m, with only $150m of that total supplied by public local, state and federal sources.
But as Bancel noted, those capital campaigns were conducted before the Meltdown. These days, the $15m to $40m required to reskin Hanger One won't be easy to raise. That is, unless a suitably large "naming-opportunity gift" entices the Navy, NASA, and the Save Hangar One Committee to allow it to be renamed The Larry Ellison Hangar One. ®